Polls are Open for Outdoor Channel and Sportsman Channel's Outdoor Sportsman Awards "Fan Favorite Host(s)"
Cast Your Vote Now for a Chance to Win Prizes
DENVER (November 28, 2016) – Outdoor Channel and Sportsman Channel, part of Outdoor Sportsman Group – Networks, present the 17th Annual Outdoor Sportsman Awards powered by RAM. The Outdoor Sportsman Awards are among the most coveted accolades for outdoor-lifestyle programming. Nominees for the Outdoor Sportsman Awards are listed below and fans of both networks are invited to cast their vote for the Fan Favorite Host(s) category – just two of 20 lauded awards presented at this year's ceremony.
The Outdoor Sportsman Awards show will be held on the night of Thursday, January 19, 2017 at The Venetian Theatre in Las Vegas during the National Shooting Sports Foundation's annual industry gathering, the Shooting, Hunting, and Outdoor Trade Show (SHOT Show) and Conference. Subscribers of MyOutdoorTV.com also will have the opportunity to view the Outdoor Sportsman Awards via live streaming.
This year's hosts include: Tom McMillan of Sportsman Channel's MCMILLAN and Michael Waddell of Outdoor Channel's Realtree Road Trips with Michael Waddell and Michael Waddell's Bone Collector.
The following are among the other awards that will be presented by network talent and special guests at the Outdoor Sportsman Awards: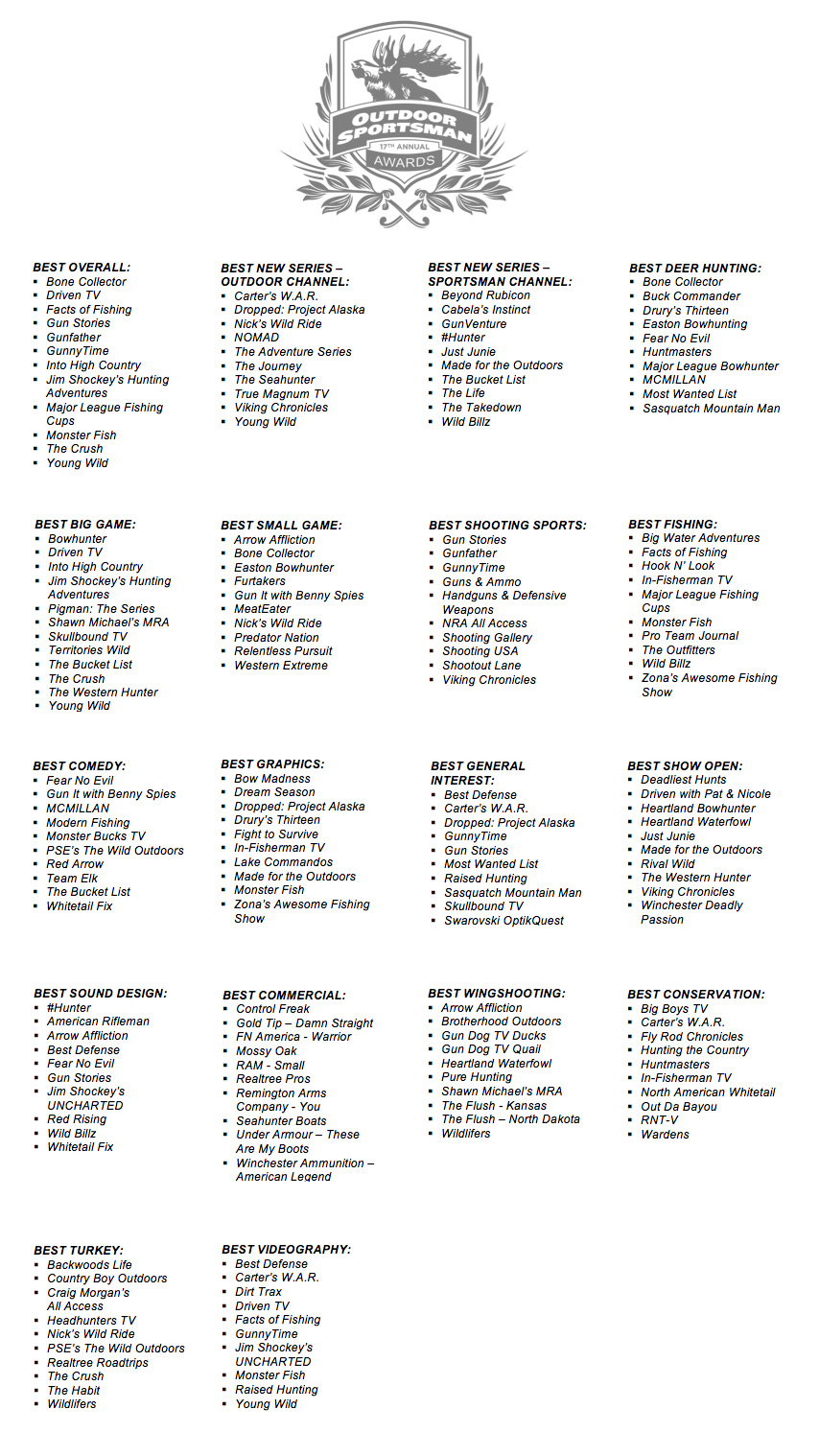 Last year, thousands of fans of both networks took part in selecting their favorite TV show hosts.
To show sincere gratitude to the loyal and avid fan base, Outdoor Channel and Sportsman Channel will reward a select few fans with prize packs brimming with outdoor-centric swag. The Fan Favorite voting sweepstakes will include prizes for eight winners – four per network, who will be chosen at random via a prize draw.
The voting period runs now through December 4, 2016.
Visit each network's page to vote for your favorite Outdoor Channel and Sportsman Channel hosts:            
Outdoor Channel: http://outdoorchannel.com/vote
Sportsman Channel: http://www.thesportsmanchannel.com/vote
About Outdoor Sportsman Group: Outdoor Sportsman Group is comprised of the world's foremost media and entertainment brands for outdoor adventure enthusiasts. It includes three leading multichannel networks: Outdoor Channel, Sportsman Channel and World Fishing Network. The Group also consists of a number of established integrated media assets: 15 outdoor magazines including Guns & Ammo, Petersen's Bowhunting and Florida Sportsman, and 19 top websites, including BassFan.com. Additionally, Outdoor Sportsman Group includes television production operations, Winnercomm, as well as aerial camera businesses, SkyCam and CableCam. For more information, visit www.outdoorsg.com. Check out the My Outdoor TV app for iOS and Android to stream outdoor entertainment anytime, anywhere. #AdventureToGo
About Outdoor Channel: Outdoor Channel has been taking viewers across America and around the world on unparalleled adventures since 1993. Dedicated to the outdoor lifestyle and conservation, the independent cable network is a division of Outdoor Sportsman Group and provides a complete spectrum of riveting hunting, fishing, shooting and adventure entertainment. Outdoor Channel is the largest outdoor TV footprint in the country and is available in more than 50 countries internationally. Outdoor Channel can be viewed in HD and is accessible by broadband and mobile platforms. For program times and other information, visit www.outdoorchannel.com. Follow us on Twitter, Instagram, Facebook and YouTube. #WhatGetsYouOutdoors
About Sportsman Channel: Launched in 2003, Sportsman Channel/Sportsman HD is a television and digital media company fully devoted to honoring a lifestyle that is celebrated by millions of Americans. A division of Outdoor Sportsman Group, Sportsman Channel delivers entertaining and informative programming that showcases outdoor adventure, hunting and fishing, and illustrates it through unique and authentic storytelling. Sportsman Channel embraces the attitude of "Red, Wild & Blue America" – where the American Spirit and Great Outdoors are celebrated in equal measure. Stay connected to Sportsman Channel online at thesportsmanchannel.com, Facebook, Twitter and YouTube.
********
Media Contact:
Tom Caraccioli | Outdoor Sportsman Group | 212.852.6646 | tcaraccioli@thesportsmanchannel.com