'Game & Fish' Magazine's March Issue Hits the Newsstands
February 20, 2019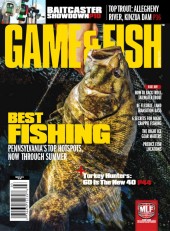 DENVER (February 20, 2019) — Game & Fish Magazine, America's only national outdoor magazine with a focus on local hunting and fishing, announces its March 2019 issue is available on newsstands.
The annual "Tackle Test" headlines the issue. The "Tackle Test" is the first in a three-part series that will run in the March, April and May issues. Game & Fish (G&F) editors and industry experts break down 16 of the latest bait-casting rods and 12 bait-casting reels in the issue. (Spoiler alert: An Abu Garcia reel and Kistler rod won "Editor's Choice." An Academy reel and Denali rod won "Great Buy.")
In April, Game & Fish editors and experts report test results of 28 spinning rods and reels. In May, G&F editors put together the best combinations of the top rods and reels for the most popular fishing techniques. Also, readers can check out gafmag.com for information about gear, video tips for big fish hooksets, and what was learned on the water during testing and more.
Hunters also will find value in the March issue. Turkey hunters will always debate shot distance. The G&F editors and experts make a case for the 60-yard shot. G&F also covers tactics, such as tricking mature gobblers in different U.S. states and sure-kill setups. The March issue also highlights the latest gear essentials for the off-road hunters who chase backcountry birds.
Anglers seeking crappie will read a feature on catching the migrations and night fishing. Walleye fishers will learn to catch more open-water walleyes with our expert strategies.
The March issue of Game & Fish is on newsstands now or subscribe at: www.gafmag.com.
About Outdoor Sportsman Group Publishing: As a premier destination for the most avid outdoors enthusiasts, Outdoor Sportsman Group's publishing division is widely recognized for its strong special-interest multichannel brands, including Petersen's Hunting, Guns & Ammo, In-Fisherman, North American Whitetail, Game & Fish/Sportsman and 10 other leading magazines that reach more than 28 million readers. Outdoor Sportsman Group's network of websites, including BassFan.com, Outdoorchannel.com, Sportsmanchannel.com and WFN.com, attracts more than 78 million annual unique visitors, and OSG TV produces hundreds of TV episodes of original branded hunting, sport shooting and fishing programming that airs on Outdoor Sportsman Group's broadcast entities. Visit http://outdoorsg.com for more information. #MyOutdoorTV
********
MEDIA CONTACT:
John Kearney | Outdoor Sportsman Group | 212.852.6659 | John.Kearney@OutdoorSG.com