Outdoor Sportsman Group's 'Heartland Bowhunter' Becomes the Next MyOutdoorTV Programming Library Acquisition
July 25, 2017

DENVER (July 25, 2017) – Outdoor Sportsman Group's (OSG) MyOutdoorTV (MOTV) content continues to grow with the announcement of the acquisition of the programming library of Heartland Bowhunter. MOTV, the outdoor global subscription video on-demand service (available for [US] $9.99 per month or [US] $99.99 annually), acquired nine seasons and 117 episodes of programming from the HB library and currently is available.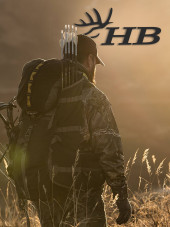 MyOutdoorTV is the new outdoor global subscription video on-demand service from Outdoor Sportsman Group created just for outdoor lifestyle enthusiasts. The subscriber-based service can be found in the Apple iTunes, Android and Google Play App stores for users in the North America, Europe, Asia, Japan, New Zealand and other locations. The retail price of MOTV also includes a seven-day free trial period.
"From the very beginning, when we first started this show, Heartland Bowhunter has been focused on providing one guiding principle – quality," host Michael Hunsucker extolled. "No matter the service, product or production; quality has always been our goal. MOTV will continue to help us provide that quality to a bigger and broader audience."
"The Heartland Bowhunter team provides another facet of the outdoor lifestyle that our viewers can't get enough of – bowhunting," Outdoor Sportsman Group Networks CEO and President, Jim Liberatore said. "Watching true professionals handle a bow is like nothing else on outdoor lifestyle television. These guys are some of the best and we welcome their content on MOTV."
The global subscription-based video-on-demand service provides the best outdoor programming, lifestyle content and access to favorite Outdoor Channel, Sportsman Channel and World Fishing Network television shows and is the pre-eminent voice for all outdoor enthusiasts. MOTV – powered by the three networks – accomplishes this with an expansive acquired library of the best hunting, fishing and shooting programming in long and short form, recipes, tips and tricks, how-to instructional videos, as well as educational and exclusive content focusing on improving success in the field and waterways. Along with the three networks, content is available from Outdoor Sportsman Group's established integrated media arm that includes 15 outdoor magazines, such as: Guns & Ammo, Game & Fish, In-Fisherman, Florida Sportsman and Wheels Afield and 19 top websites, including: BassFan.com. Exclusive episodes, as well as live event coverage and behind-the-scenes footage will be added in the future.
For more on MyOutdoorTV please visit: www.motv.com. #MYOUTDOORTV
About Outdoor Sportsman Group: Outdoor Sportsman Group is comprised of the world's foremost media and entertainment brands for outdoor adventure enthusiasts. It includes three leading multichannel networks: Outdoor Channel, Sportsman Channel and World Fishing Network, as well as MOTV, the world's leading subscription outdoor television content platform. The Group also consists of a number of established integrated media assets: 15 outdoor magazines including: Guns & Ammo, Petersen's Bowhunting and Florida Sportsman, and 19 top websites, including: BassFan.com. Additionally, Outdoor Sportsman Group includes television production operations, Winnercomm.
********
MEDIA CONTACTS:
Tom Caraccioli | Outdoor Sportsman Group | 212.852.6646 | Tom.Caraccioli@OutdoorSG.com
Erin Erickson | Outdoor Sportsman Group | 303.615.8838 | Erin.Erickson@OutdoorSG.com