Outdoor Sportsman Group's 'MyOutdoorTV' Acquires Exclusive Content
June 21, 2017


NEW YORK (June 20, 2017) – Outdoor Sportsman Group (OSG) has acquired the programming library of world-renowned outdoor lifestyle television personality and producer Jim Shockey and the award-winning Shockey Productions for its outdoor global subscription video on-demand service MyOutdoorTV (MOTV). Outdoor Sportsman Group obtained more than 15 years, 420 episodes and 250+ hours of programming from the legendary Shockey library.
The acquisition of exclusive content from the Shockey library – Jim Shockey's Hunting Adventures, Jim Shockey's The Professionals and Jim Shockey's UNCHARTED – is part of Outdoor Sportsman Group's initiative to partner with its best-in-class producers and talent to endeavor to populate the outdoor lifestyle industry with content for linear, digital, print and mobile platforms. Further, OSG has obtained the rights to new original programming from future productions that will become available exclusively on MOTV in the next several years. This is the first time in the history of outdoor lifestyle television that an industry leader – Outdoor Sportsman Group – has committed to vigorously develop and grow its content domestically and globally.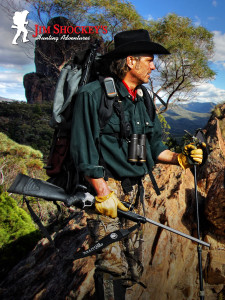 "I'm extremely proud to be able to entrust my personal video legacy to Outdoor Sportsman Group," said Shockey. "Outdoor Channel was my first and has always been the only home for Shockey television productions during my entire career. OSG represents the best in the business, as further evidenced by what they've developed in MyOutdoorTV. Together, this helps us reach more potential hunters and outdoorsmen and women with our positive message of healthy, honest, outdoors adventure and conservation."
MyOutdoorTV, launched globally in June 2017, is the new outdoor global subscription video on-demand service from Outdoor Sportsman Group created just for outdoor lifestyle enthusiasts. The subscriber-based service can be found in the Apple iTunes and Android (Google Play) App stores for users around the world. The retail price of MOTV is (US) $9.99 per month or (US) $99.99 annually and includes a seven-day free trial period.
"We realize having partnerships with our talent and producers, combined with our networks and publications, gives us a unique opportunity to aggregate the best content the outdoor industry has to offer," said CEO and President of Outdoor Sportsman Group Networks, Jim Liberatore. "As a result, we can showcase our library of amazing talent and content domestically and internationally. There is no better person to start promoting our exclusive position and global expansion than internationally-renowned Jim Shockey."
The global subscription-based video-on-demand service provides the best outdoor programming, lifestyle content and access to favorite Outdoor Channel, Sportsman Channel and World Fishing Network television shows and is the pre-eminent voice for all outdoor enthusiasts. MOTV – powered by the three networks – accomplishes this with an expansive acquired library of the best hunting, fishing and shooting programming in long and short form, recipes, tips and tricks, how-to instructional videos, as well as educational and exclusive content focusing on improving success in the field and waterways. Along with the three networks, content is available from Outdoor Sportsman Group's established integrated media arm that includes 15 outdoor magazines, such as: Guns & Ammo, Game & Fish, In-Fisherman, Florida Sportsman and Wheels Afield and 19 top websites, including: BassFan.com. Exclusive episodes, as well as live event coverage and behind-the-scenes footage will be added in the future.
For more on MyOutdoorTV please visit: www.motv.com. #MYOUTDOORTV
About Outdoor Sportsman Group: Outdoor Sportsman Group is comprised of the world's foremost media and entertainment brands for outdoor adventure enthusiasts. It includes three leading multichannel networks: Outdoor Channel, Sportsman Channel and World Fishing Network, as well as MOTV, the world's leading subscription outdoor television content platform. The Group also consists of a number of established integrated media assets: 15 outdoor magazines including: Guns & Ammo, Petersen's Bowhunting and Florida Sportsman, and 19 top websites, including: BassFan.com. Additionally, Outdoor Sportsman Group includes television production operations, Winnercomm.
********
MEDIA CONTACTS:
Tom Caraccioli | Outdoor Sportsman Group | 212.852.6646 | Tom.Caraccioli@OutdoorSG.com
Erin Erickson | Outdoor Sportsman Group | 303.615.8838 | Erin.Erickson@OutdoorSG.com