Outdoor Sportsman Group's MyOutdoorTV Continues Content Acquisition with Realtree's Vast Programming Library
August 18, 2017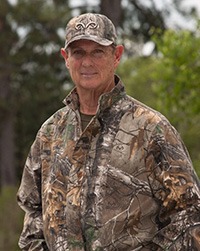 NEW YORK (August 18, 2017) – Outdoor Sportsman Group (OSG) has acquired the Realtree programming library including Bill Jordan's Realtree Outdoors with hosts, Bill Jordan, Tyler Jordan and David Blanton; Realtree Roadtrips and Monster Bucks for its outdoor global, subscription-based, video on-demand service MyOutdoorTV (MOTV).
Outdoor Sportsman Group obtained more than 15 years of programming from the Realtree library, and this trove of content will be added to each year with new content from the above-mentioned series. MOTV and Realtree also will work together to promote MOTV as the exclusive destination for Realtree long-form content. As part of the acquisition, Realtree will create exclusive, new, original content for avid deer fans and fresh "how-to" programming derived from classic hunts and encounters that reside in their vast library.
Since 1993, Realtree Outdoors has followed Jordan as he travels the country in search of all types of game, from waterfowl and turkey, to deer, elk, bear, and more. Currently, Realtree Outdoors is seen on Outdoor Channel in the United States. Started in 2001, Realtree Roadtrips is Michael Waddell's first hosted series in which he travels the country hunting with friends. Monster Bucks is a compilation of the best hunts from the biggest names in deer hunting.
"We have followed along with Bill and his team throughout their many years of hunting on Outdoor Channel and are thrilled to acquire the Realtree library for MOTV," Outdoor Sportsman Group President and CEO, Jim Liberatore said. "We are confident this will be an added favorite for the core hunting audience, both domestically and internationally, as they are now able to experience Bill's adventures for the first time, or all over again, on MOTV."
The acquisition of exclusive content from the Realtree Library comes after Outdoor Sportsman Group acquired the exclusive library of shows from Jim Shockey and Shockey Productions, Brian "Pigman" Quaca, Heartland Bowhunter and the late Jose Wejebe's Spanish Fly. OSG is partnering with its best-in-class producers and talent to populate the outdoor lifestyle industry with content for linear, digital, print and mobile platforms with one click.
"All of us at Realtree enjoy sharing the excitement and satisfaction of the outdoor lifestyle, and we realize the important role that our hunting heritage plays in the conservation of land and wildlife," Realtree Designer and President, Bill Jordan said. "The opportunity to share this lifestyle with more people through MOTV is very exciting."
MyOutdoorTV is the new global, paid-subscription, video on-demand service from Outdoor Sportsman Group created just for outdoor lifestyle enthusiasts. The subscriber-based service can be found in Apple iTunes and Google Play App stores for users across the globe. The retail price of MOTV is (US) $9.99 per month or (US) $99.99 annually and includes a seven-day free trial period.
The global, subscription-based, video-on-demand service provides the best outdoor programming, lifestyle content and access to favorite Outdoor Channel, Sportsman Channel and World Fishing Network television shows and is the preeminent voice for all outdoor enthusiasts. MOTV – powered by the three networks – accomplishes this with an expansive acquired library of the best hunting, fishing and shooting programming in long and short form, recipes, tips and tricks, how-to instructional videos, as well as educational and exclusive content focusing on improving success in the field and waterways. Along with the three networks, content is available from Outdoor Sportsman Group's established integrated media arm that includes 15 outdoor magazines, such as: Guns & Ammo, Game & Fish, In-Fisherman, Florida Sportsman and Wheels Afield and 19 top websites, including: BassFan.com. Exclusive episodes, as well as live event coverage and behind-the-scenes footage will be added in the future.
For more on MyOutdoorTV please visit: www.motv.com. #MYOUTDOORTV
About Outdoor Sportsman Group: Outdoor Sportsman Group is comprised of the world's foremost media and entertainment brands for outdoor adventure enthusiasts. It includes three leading multichannel networks: Outdoor Channel, Sportsman Channel and World Fishing Network, as well as MOTV, the world's leading subscription outdoor television content platform. The Group also consists of a number of established integrated media assets: 15 outdoor magazines including: Guns & Ammo, Petersen's Bowhunting and Florida Sportsman, and 19 top websites, including: BassFan.com. Additionally, Outdoor Sportsman Group includes television production operations, Winnercomm.
About Realtree: Realtree is the world's leading camouflage designer, marketer, and licensor with over 2,000 licensees utilizing the Realtree camouflage brand. Thousands of outdoor and lifestyle products are available in Realtree camouflage patterns. In addition, Realtree is committed to supporting individuals and groups that work to ensure our outdoor heritage, the conservation of natural places, and the wildlife that resides there.
********
MEDIA CONTACTS:
Tom Caraccioli | Outdoor Sportsman Group | 212.852.6646 | Tom.Caraccioli@OutdoorSG.com
Erin Erickson | Outdoor Sportsman Group | 303.615.8838 | Erin.Erickson@OutdoorSG.com