Sportsman Channel's Popular "Talkin' Turkey" Marathon Returns on Saturdays: February 27, March 5, 12 and 19
February 23, 2016
Features Avian-X TV and Turkey Man TV Shows, along with New Episodes of Avian-X TV with Country Music Star Blake Shelton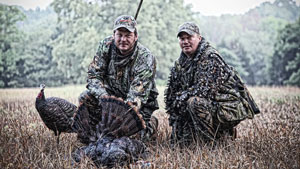 DENVER (February 23, 2016)– Turkey talk is just a gobble and cluck away with Sportsman Channel's Talkin' Turkey presented by Avian-X returning for the fifth year with 12 hours of all-turkey hunting action featuring new episodes of Avian-X TV with Matt Morrett and viewer favorite shows from Turkey Man with Eddie Salter. Tune in for three hours every Saturday beginning at 5 p.m. ET on February 27, March 5, 12 and 19 exclusively on Sportsman Channel.
Kicking off the turkey "talkfest" is a special episode on February 27 at 5 p.m. ET featuring country music star Blake Shelton hunting turkey with the Avian-X crew at Shelton's home in Oklahoma.
For full schedule and videos visit: http://www.thesportsmanchannel.com/.
Sportsman Channel's Talkin' Turkey presented by Avian-X schedule is as follows:
February 27
5 p.m. – Avian-X Red Dirt Strutters (NEW) – Host Matt Morrett travels to his buddy Blake Shelton's home in Oklahoma for up-close turkey hunting action. Matt meets his match with a tough, crooked tailed longbeard.
6 p.m. – Avian- X Rut N Strut Longbeards (NEW) – World Champion Turkey Caller Josh Grossenbacher meets up with Todd Rogers, owner of Rut N Strut Guide Service, for an unbelievable day of turkey hunting.
7 p.m. – Turkey Man Friends and Family – Eddie has a couple of people in the hot seat this week from good friend, Matt Busbice, to most of his family and they are all talking about the same thing: hunting longbeards.
7:30 p.m. – Turkey Man Buckets & Beards – This week Eddie has Matt Busbice in the chair to talk about an infamous hunting incident in Hawaii. And Eddie learns that Hawaii has turkeys galore.
March 5
5 p.m. – Avian-X Rolltide Longbeards (NEW) – Josh Grossenbacher and Pro Staffer Terrance Williamson team up on tough Alabama longbeards. Then Matt Morrett joins long-time friend Rigby McMillan down in Lower Alabama for a variety of southern turkey hunts that will have viewers dreaming of spring.
5 p.m. – Avian-X Last Stand Longbeards (NEW) – Champion callers Hunter Wallis and Josh Grossenbacher team up in New York and Pennsylvania. And in usual fashion, they bring it down to the wire to get it done.
6 p.m. – Turkey Man Assassins and Barbers – Eddie drops in on the Trained Assassins this week and trades a hair cut for turkey stories.
6:30 p.m. – Turkey Man Assassins and Barbers, Part 2 – Uncle Rusty is in the chair as Eddie continues his talk with the Trained Assassins.
March 12
5 p.m. – Avian-X Family Traditions (NEW) – Cold temperatures and flocked up turkeys create a challenging hunt as Matt Morrett takes his daughter Madison to upstate New York for a shot at her very first longbeard.
6 p.m. – Avian-X Kansas World Hunting Championship (NEW) – Matt Morrett and Pete Angle team up at the World Turkey Hunting Championship in Kansas. Do they have what it takes to come out on top?
7 p.m. – Avian-X Southern Comfort Longbeards – Southern Comfort Longbeards join Matt Morrett as he travels to Florida and Alabama to start off the season.
March 19
5 p.m. – Avian-X Snowy Strutters – Matt Morrett finds himself chasing longbeards in the middle of a Kansas snow storm.
6 p.m. – Avian-X Longhorn Longbeards – The Avian-X crew joins Fred Zink in the Longhorn State as they spend some incredible days in the turkey woods of the Mossy Oak Rio Round Up.
7 p.m. – Avian-X Neon Light Longbeards – Welcome back to Blake Shelton's Oklahoma Turkey Camp, where there is 100% chance of good times, lots of laughs and guaranteed #FLOPPAGE.
 About Sportsman Channel: Launched in 2003, Sportsman Channel/Sportsman HD is a television and digital media company fully devoted to honoring a lifestyle that is celebrated by millions of Americans. A division of Outdoor Sportsman Group, Sportsman Channel delivers entertaining and informative programming that showcases outdoor adventure, hunting and fishing, and illustrates it through unique and authentic storytelling. Sportsman Channel embraces the attitude of "Red, Wild & Blue America" – where the American Spirit and Great Outdoors are celebrated in equal measure. Stay connected to Sportsman Channel online at thesportsmanchannel.com, Facebook, Twitter and YouTube.
******** 
MEDIA CONTACTS:
Tom Caraccioli | Outdoor Sportsman Group | 212.852.6646 | tcaraccioli@thesportsmanchannel.com
Shareese Thompson | Outdoor Sportsman Group | 212.852.6639 | sthompson@thesportsmanchannel.com
Skylar Isdale | Outdoor Sportsman Group | 303.615.8838 | skylar.isdale@thesportsmanchannel.com