World Fishing Network Weekly Programming Highlights
March 9, 2017
The Indian River Lagoon on "Ultimate Catch"; Angling Tips from Pros on "The Fish Finders"; Smallmouths in Michigan on "Hook N' Look" and Pike and Grayling on a Fly on "The New Fly Fisher"
DENVER (March 9, 2017) – During the week of March 13–19, World Fishing Network viewers will enjoy some of the world's most beautiful places to fish as Captain Eric Ciocher goes to Florida's Indian River Lagoon to find some Sheepshead and Seatrout on Ultimate Catch; the hosts of The Fish Finders give their clever angling tips; Kim Stricker heads to the Indian River in Michigan in search of smallmouths on Hook N' Look and Bill Spicer is in the Kasba Lake Lodge in British Columbia on The New Fly Fisher.
Ultimate Catch starts the week on Bass Mondays with Captain Eric Ciocher heading out into the scenic Indian River Lagoon along the Space Coast of Florida to catch Sheepshead and Seatrout with Captain Jonathan Wilson. Then, on The Fish Finders, Alan Gibbons and Bill Davis give helpful tips to expand the knowledge base and comfort zone of the everyday angler.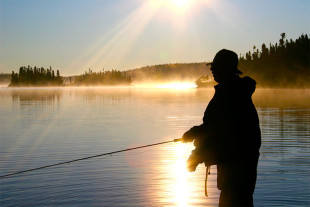 Wednesday night's Secrets of the Pros begins with Hook N' Look's local guide, Marcel Veenstra, accompanying Kim Stricker to Indian River, Michigan for giant smallmouths. Finally, on The New Fly Fisher, Bill Spicer continues his fishing at Kasba Lake Lodge in British Columbia and this time he catches some pike and grayling on a fly.
Highlights for March 13–19:
About World Fishing Network: World Fishing Network is North America's only television network, online and mobile platform dedicated exclusively to fishing and outdoor enthusiasts with programming that covers instruction, tips, tournaments, travel, food, boating, outdoor lifestyle and more. Available to cable, satellite and telco subscribers throughout the United States, Canada and the Caribbean, our lineup includes a selection of the best North American and international series and the most diverse species coverage of any TV channel hosted by some of the top anglers from North America and across the globe. For more information, please visit WorldFishingNetwork.com and follow us at Facebook and Twitter. #AdventureToGo
********
MEDIA CONTACTS:
Allison Kmec | Outdoor Sportsman Group | 303.615.8838 | Allison.Kmec@OutdoorSG.com
Tom Caraccioli | Outdoor Sportsman Group | 212.852.6646 | Tom.Caraccioli@OutdoorSG.com