Everything is Just Ducky in 'WildFowl Magazine' June/July Issue
May 18, 2022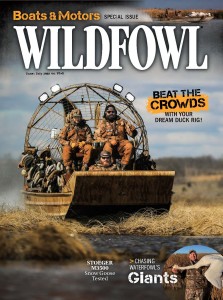 DENVER (May 18, 2022) – The June/July issue of Outdoor Sportsman Group Publishing's WildFowl Magazine is just "ducky" with 737 Duck Calls super-bad Air Ranger dream boat on the cover of the annual boats and motors issue. The magazine also features 11 pages of top waterfowl vessels, mud motors, boat blinds, racks and small-water one-man watercrafts.
Other WildFowl Magazine highlights from the June/July issue include:
CHASING GIANTS: Scott Haugen takes readers on the hunt for Utah swans and teal.
FROM THE FIELD: WildFowl staff test how the Stoeger M3500 Snow Goose brings down the birds in Arkansas.
CONSERVATION: Our obsession with Hybrids; behind the biology and hunt stories.
THE PLAYBOOK: Duck Boat knowledge and handling.
RETRIEVERS: How to choose a vet and the importance of early imprinting in training. Bonus: How to keep the training environment fresh.
THE OLD MAN: A tribute to MOJO's Mike Morgan, outdoor industry camera legend.
PLUS: Readers react to the Jack Miner banding legacy. Also; a killer bourbon-glaze goose recipe.
PODCAST: Don't miss upcoming episodes of the WildFowl podcast featuring Garret Walker of Quackrack, waterfowl photographer Ted Wells and the dynamic founder of Dive Bomb Industries Cody Stokes.
For more information on subscriptions and content from the WildFowl Magazine brands, visit: https://www.wildfowlmag.com.
About Outdoor Sportsman Group: Outdoor Sportsman Group is comprised of the world's foremost media and entertainment brands for outdoor adventure enthusiasts. It includes three leading multichannel networks: Outdoor Channel, Sportsman Channel and World Fishing Network, as well as Sportsman Channel (Canada) and MOTV, the world's leading subscription-based video-on-demand outdoor television content platform. The Group also consists of numerous established publishing assets: 15 outdoor magazines including Guns & Ammo, Game & Fish, Petersen's HUNTING, In-Fisherman and 20 top websites, including OutdoorChannelPlus.com. Additionally, Outdoor Sportsman Group includes television production operations, Winnercomm. For more information, visit www.outdoorsg.com. #MyOutdoorTV
About Outdoor Sportsman Group Publishing: As a premier destination for the most avid outdoors enthusiasts, Outdoor Sportsman Group's publishing division is widely recognized for its strong special-interest multichannel brands, including Guns & Ammo, Game & Fish, Petersen's HUNTING, In-Fisherman and 11 other leading magazines that reach more than 28 million readers. Outdoor Sportsman Group's network of websites, including OutdoorChannelPlus.com, BassFan.com, Outdoorchannel.com, Sportsmanchannel.com and WFN.com, attracts more than 78 million annual unique visitors, and OSG TV produces hundreds of TV episodes of original branded hunting, sport shooting and fishing programming that airs on Outdoor Sportsman Group's broadcast entities. Visit http://outdoorsg.com for more information. #MyOutdoorTV
********
MEDIA CONTACT:
Tom Caraccioli | Outdoor Sportsman Group | Tom.Caraccioli@OutdoorSG.com