Print
Outdoor Sportsman Group's Magazines & Special Interest Publications reach 7.9 million customers with 28 regional and 14 national titles reaching an audience of over 27-million readers who devour the 13,000 editorial pages that we produce every year.
Additionally, our 35+ Special Interest Publications serve the needs of highly-engaged readers who find this specialized information exclusively on the newsstand and respond to our authority as proven by high-sell-through rates.

These brands represent some of the oldest and most established in the industry – from the iconic Guns & Ammo, to the useful – with 28 regional editions – Game & Fish, to the most prestigious – Fly Fisherman, the leader in the 'catch-and-release' fishing category.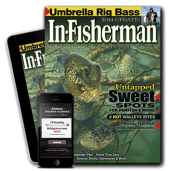 As an advertiser and if your primary target is men, we capture more male consumers (over 22-million) than any other sports-oriented media company – that's more men then some mainstream brands, like Esquire, Popular Mechanics and Playboy.
Our magazines also serve as the foundation of our outdoors- and sports-oriented content machine, feeding both our digital properties (online, mobile and apps) our branded-television programming on Outdoor Channel and Sportsman Channel.