Humbling Duck Hunt with Decorated War Veteran Embodies True Bravery on Outdoor Channel's The Fowl Life with Chad Belding
September 7, 2017

Humbling Duck Hunt with Decorated War Veteran Embodies True Bravery on
Outdoor Channel's The Fowl Life with Chad Belding
DENVER (September 7, 2017) – Humbling. Heroic. Brave. These are a few of the words to describe a unique two-part series of The Fowl Life with Chad Belding airing exclusively on Outdoor Channel beginning Saturday, September 9 and concluding on Saturday, September 16 (5:30 p.m. ET).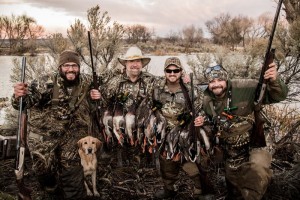 Inviting veterans on a hunt is not unusual for host, Chad Belding, and The Fowl Life crew. But this particular hunt involves a Navy SEAL Chief Jake Young (Ret.), who has been on hundreds of missions without fanfare or expecting anything in return – other than the knowledge of serving his country.
While the flyovers may be different this time for Chief Young, the camaraderie in camp is the same. Hunting on prime duck land in Hagerman, Idaho, along the fertile Snake River, Belding and property owner, John Shaw, are hosting The Freedom Hunter Project.
"We titled the episodes 'Humbling Parts 1 and 2' because that was the entire duck camp's sentiment toward Chief Young," Belding said. "He is the literal embodiment of American bravery. Don't you dare call him a 'hero.' SEAL's are far above seeking out or accepting titles such as that."
The hundreds of missions that came without fanfare for Chief Young are where his valor truly shines. Several of his missions have even been later made into movies. However, three months into a nine-month deployment in Afghanistan, Chief Young and his team's camp were ambushed. A grenade caused devastating injuries to his friend instantly and sent shrapnel his way. He thought the blood coming from his head was just a scratch.
Fast forward his return home; his wife and he started butting heads immediately. Something wasn't right. He wasn't himself. Finally, a cat scan was ordered and shrapnel was discovered lodged in Chief Young's brain. Twenty-four months and nine brain surgeries later, his recovery was just beginning. His short-term memory will never recover. The headaches may never go away. The worst part for him is that he never gets to be a SEAL and serve his country again – but he can hunt ducks.
"This was an amazing episode to make," Belding added. "Chief Young couldn't have been more appreciative to The Fowl Life team for getting to hunt Hagerman Wings with us and we couldn't have been more humbled. Hagerman owner, John Shaw, dedicated a piece of his land to him – called Chief Young Pond. This duck camp was different. This duck camp was humbled."
Join Chad Belding on Friday, September 8 at 5 p.m. ET on the Outdoor Channel Facebook page for a Facebook LIVE event at: www.facebook.com/OutdoorChannel/.
About Outdoor Sportsman Group: Outdoor Sportsman Group is comprised of the world's foremost media and entertainment brands for outdoor adventure enthusiasts. It includes three leading multichannel networks: Outdoor Channel, Sportsman Channel and World Fishing Network, as well as MOTV, the world's leading outdoor television content platform. The Group also consists of a number of established integrated media assets: 15 outdoor magazines including Guns & Ammo, Petersen's Bowhunting and Florida Sportsman, and 19 top websites, including BassFan.com. Additionally, Outdoor Sportsman Group includes television production operations, Winnercomm. For more information, visit www.outdoorsg.com. #MyOutdoorTV
About Outdoor Channel: Outdoor Channel has been taking viewers across America and around the world on unparalleled adventures since 1993. Dedicated to the outdoor lifestyle and conservation, the independent cable network is a division of Outdoor Sportsman Group and provides a complete spectrum of riveting hunting, fishing, shooting and adventure entertainment. Outdoor Channel is the largest outdoor TV footprint in the country and is available in more than 50 countries internationally. Outdoor Channel can be viewed in HD and is accessible by broadband and mobile platforms. For program times and other information, visit www.outdoorchannel.com. Follow us on Twitter, Instagram, Facebook and YouTube. #WhatGetsYouOutdoors #MyOutdoorTV
********
MEDIA CONTACTS:
Tom Caraccioli | Outdoor Sportsman Group | 212.852.6646 | Tom.Caraccioli@OutdoorSG.com
Erin Erickson | Outdoor Sportsman Group | 303.615.8838 | Erin.Erickson@OutdoorSG.com