Magazine Is 'Guide To Modern Crossbow Hunting'
August 17, 2017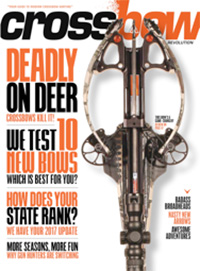 DENVER (August 17, 2017) — Crossbow hunting may be the most dynamic segment of the outdoor industry, and Crossbow Revolution is considered "the guide to modern crossbow hunting."
Created by the publishers at Game & Fish Magazine, the special-interest publication is now available on newsstands, iTunes, Google Play and Windows Store.
This special issue is written by crossbow hunters for crossbow hunters, and includes features for hardcore hunters, such as "Hunt Anywhere," "After-Market Arrows" and "Alaska Bear Adventure."
"Our magazine is full of the best writers in the industry," said Editor John Geiger. "The stories and features inform and entertain. It's a perfect mix of gear, adventures, tactics and news."
Crossbow Revolution also offers great content geared for new hunters or anyone considering picking up a modern crossbow for the first time. "Deer Hunting 101" walks a hunter through buying a crossbow, setting it up and harvesting a deer in the coming season. A project called "Choose Your Weapon Wisely" clears up the choices in the crossbow-buying experience. Plus, any hunter would be interested in the buyers' guide that tests 10 of the latest flagship crossbows. Each rig ran a gauntlet of detailed speed, noise and accuracy tests.
"From cover to cover, we assembled excellent, entertaining stories that will increase any hunter's knowledge and enjoyment of the sport," said Geiger.
The magazine is distributed across the USA. Visit www.crossbowrevolution.com.
About Outdoor Sportsman Group: Outdoor Sportsman Group is comprised of the world's foremost media and entertainment brands for outdoor adventure enthusiasts. It includes three leading multichannel networks: Outdoor Channel, Sportsman Channel and World Fishing Network, as well as MOTV, the world's leading outdoor television content platform. The Group also consists of a number of established integrated media assets: 15 outdoor magazines including Guns & Ammo, Petersen's Bowhunting and Florida Sportsman, and 19 top websites, including BassFan.com. Additionally, Outdoor Sportsman Group includes television production operations, Winnercomm. For more information, visit www.outdoorsg.com. #MyOutdoorTV
About Outdoor Channel: Outdoor Channel has been taking viewers across America and around the world on unparalleled adventures since 1993. Dedicated to the outdoor lifestyle and conservation, the independent cable network is a division of Outdoor Sportsman Group and provides a complete spectrum of riveting hunting, fishing, shooting and adventure entertainment. Outdoor Channel is the largest outdoor TV footprint in the country and is available in more than 50 countries internationally. Outdoor Channel can be viewed in HD and is accessible by broadband and mobile platforms. For program times and other information, visit www.outdoorchannel.com. Follow us on Twitter, Instagram, Facebook and YouTube. #WhatGetsYouOutdoors. #MyOutdoorTV
About Sportsman Channel: Launched in 2003, Sportsman Channel/Sportsman HD is a television and digital media company fully devoted to honoring a lifestyle that is celebrated by millions of Americans. A division of Outdoor Sportsman Group, Sportsman Channel delivers entertaining and informative programming that showcases outdoor adventure, hunting and fishing, and illustrates it through unique and authentic storytelling. Sportsman Channel embraces the attitude of "Red, Wild & Blue America" – where the American Spirit and Great Outdoors are celebrated in equal measure. Stay connected to Sportsman Channel online at thesportsmanchannel.com, Facebook, Twitter and YouTube. #MyOutdoorTV
About World Fishing Network: World Fishing Network is North America's only television network, online and mobile platform dedicated exclusively to fishing and outdoor enthusiasts with programming that covers instruction, tips, tournaments, travel, food, boating, outdoor lifestyle and more. Available to cable, satellite and telco subscribers throughout the United States, Canada and the Caribbean, our lineup includes a selection of the best North American and international series and the most diverse species coverage of any TV channel hosted by some of the top anglers from North America and across the globe. For more information, please visit WorldFishingNetwork.com and follow us at Facebook and Twitter. #MyOutdoorTV
About Outdoor Sportsman Group – Integrated Media: As a premier destination for the most avid outdoors enthusiasts, Outdoor Sportsman Group's Integrated Media division is widely recognized for its strong special-interest multichannel brands, including Petersen's Hunting, Guns & Ammo, In-Fisherman, North American Whitetail, Game & Fish/Sportsman and 10 other leading magazines that reach more than 28 million readers. Outdoor Sportsman Group's network of websites, including BassFan.com, Outdoorchannel.com, Sportsmanchannel.com and WFN.com, attracts more than 78 million annual unique visitors, and OSG TV produces hundreds of TV episodes of original branded hunting, sport shooting and fishing programming that airs on Outdoor Sportsman Group's broadcast entities. Visit http://outdoorsg.com for more information. #MyOutdoorTV
********
MEDIA CONTACTS:
Erin Erickson | Outdoor Sportsman Group | 303.615.8838 | Erin.Erickson@OutdoorSG.com
Peter Gross, Publisher | Outdoor Sportsman Group | 678.589.2007 | Peter.Gross@OutdoorSG.com