'North American Whitetail' Magazine's New Year Issue Ushers in Massive Deer, Alpha Predators and Late Season Strategies
January 4, 2023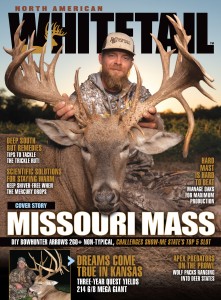 DENVER (January 4, 2023) – North American Whitetail Magazine ushered in the new year with its December/January issue full of late season whitetail hunting content featuring big bucks, alpha predators and late season whitetail tactics and strategies to fill a tag.
The December/January issue includes:
Massive, Missouri Non-typical

Josh Heuser's incredible Missouri non-typical is featured on North American Whitetail's cover this month. This 36-point non-typical scores 263 2/8 gross and 254 3/8 net.
The Effects of Wolves on Whitetails

An expanding wolf population in the Upper Midwest is leaving whitetail hunters with the reality of hunting America's most popular game animal alongside a large predator. Contributor Dan Cole explores this phenomenon and its effect on the region's hunting culture.
Real-World Tactics for the Late Season

From conquering the Southern rut to using science to stay warm, North American Whitetail provides readers with the best how-to tactics to use during the late season.
For more information on subscriptions and content from the North American Whitetail brands, the industry's leading authority on whitetails, visit: https://www.northamericanwhitetail.com
About Outdoor Sportsman Group: Outdoor Sportsman Group is comprised of the world's foremost media and entertainment brands for outdoor adventure enthusiasts. It includes three leading multichannel networks: Outdoor Channel, Sportsman Channel and World Fishing Network, as well as Sportsman Channel (Canada) and MOTV, the world's leading subscription-based video-on-demand outdoor television content platform. The Group also consists of numerous established publishing assets: 15 outdoor magazines including Guns & Ammo, Game & Fish, Petersen's HUNTING, In-Fisherman and 20 top websites, including OutdoorChannelPlus.com. Additionally, Outdoor Sportsman Group includes television production operations, Winnercomm. For more information, visit www.outdoorsg.com. #MyOutdoorTV
About Outdoor Sportsman Group Publishing: As a premier destination for the most avid outdoors enthusiasts, Outdoor Sportsman Group's publishing division is widely recognized for its strong special-interest multichannel brands, including Guns & Ammo, Game & Fish, Petersen's HUNTING, In-Fisherman and 11 other leading magazines that reach more than 28 million readers. Outdoor Sportsman Group's network of websites, including OutdoorChannelPlus.com, BassFan.com, Outdoorchannel.com, Sportsmanchannel.com and WFN.com, attracts more than 78 million annual unique visitors, and OSG TV produces hundreds of TV episodes of original branded hunting, sport shooting and fishing programming that airs on Outdoor Sportsman Group's broadcast entities. Visit http://outdoorsg.com for more information. #MyOutdoorTV
********
MEDIA CONTACT:
Tom Caraccioli | Outdoor Sportsman Group | Tom.Caraccioli@OutdoorSG.com