Outdoor Channel, Sportsman Channel and World Fishing Network Weekly Programming Highlights 8/25/17
August 25, 2017


The Power of Grizzly Bears on Outdoor Channel's "Survival Science";
Adventures in British Columbia on Sportsman Channel's "Sheep Shape"
and Prime Topwater Seasons on World Fishing Network's "Timmy Horton Outdoors"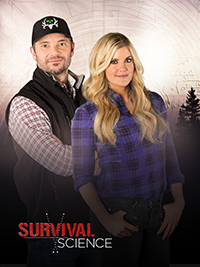 DENVER (August 25, 2017) – With cooler temperatures on the horizon and fall hunting preparations underway, Outdoor Channel, Sportsman Channel and World Fishing Network continue to entertain viewers August 28–September 3.
Outdoor Channel kicks off Monday evening with three consecutive episodes of Duck Dynasty. This week includes a business trip to Scotland for the entire family, a chicken coop renovation, and a thoroughbred race at a local race track. Then, on Survival Science, Laura Schara and Nick Mundt create daring tests to explore the immense power and startling speed of grizzly bears. They use Hollywood stunt tools to experience an attack, then try to recreate a miracle arrow shot that saved a man from being killed by a bear.
Next, Craig Morgan buys a cabin in one of his favorite spots in Alaska and spends time settling in on Craig Morgan: All Access Outdoors. Then, on Nick's Wild Ride, Nick Hoffman travels to the South Island of New Zealand in search of culture, big red stag, and backcountry tahr. He learns from the locals what makes New Zealand unlike anywhere else in the world. Friday Night at the Movies ends the week with the film Hang 'Em High, starring Clint Eastwood as Marshal Je Cooper. When an innocent man barely survives a lynching, he returns as a lawman determined to bring the vigilantes to justice.
Outdoor Channel Highlights for August 28–September 3: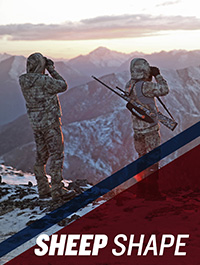 Sportsman Channel starts the week with Monday Night Hunts presented by MidwayUSA. First, on Into High Country With Jason Matzinger, Jason joins his girlfriend, Cassandra Chwialkowski, in Argentina as she spots a mature axis buck with her bow for the shot she's been waiting for her whole life. Then, on Sheep Shape, Chad Hall and Rick Carone* are in British Columbia in search of stone sheep and bull moose, and Rick recovers his lone black wolf. Next, on Lock & Load Thursdays, it's all-copper Barnes bullets loaded in Remington ammo, great for whitetail, on Guns & Gear. Finally, Doublestar adds to one of the reasons why hand gunners love the 1911 pistol with the new PhD pistol on Guns & Ammo presented by Brownells.
Sportsman Channel Highlights for August 28–September 3:
*Editor's note: Rick Carone lost his battle with pancreatic cancer and passed away on June 29, 2017.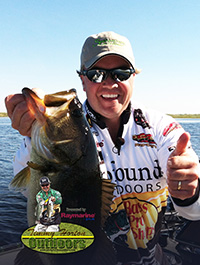 World Fishing Network reels in viewers with Bass Mondays and Timmy Horton Outdoors. This week, Timmy covers the north and south ends of Alabama, fishing one grass lake and another grass void lake during their prime topwater seasons, teaching different ways to approach them with an Azuma Popper Z. Then, on Major League Fishing, six anglers race to the cut weight and three advance to the Championship of the General Tire Summit Cup from La Crosse, Wisconsin. On Thursday evening, explorations in the Sunshine State take place on Florida Adventure Quest, followed by Captain David Iverson in the waters surrounding Venice, Louisiana on BigWater Adventures.
World Fishing Network Highlights for August 28–September 3:
Bass Mondays
Gone Fishin'
About Outdoor Channel: Outdoor Channel has been taking viewers across America and around the world on unparalleled adventures since 1993. Dedicated to the outdoor lifestyle and conservation, the independent cable network is a division of Outdoor Sportsman Group and provides a complete spectrum of riveting hunting, fishing, shooting and adventure entertainment. Outdoor Channel is the largest outdoor TV footprint in the country and is available in more than 50 countries internationally. Outdoor Channel can be viewed in HD and is accessible by broadband and mobile platforms. For program times and other information, visit www.outdoorchannel.com. Follow us on Twitter, Instagram, Facebook and YouTube. #WhatGetsYouOutdoors #MyOutdoorTV
About Sportsman Channel: Launched in 2003, Sportsman Channel/Sportsman HD is a television and digital media company fully devoted to honoring a lifestyle that is celebrated by millions of Americans. A division of Outdoor Sportsman Group, Sportsman Channel delivers entertaining and informative programming that showcases outdoor adventure, hunting and fishing, and illustrates it through unique and authentic storytelling. Sportsman Channel embraces the attitude of "Red, Wild & Blue America" – where the American Spirit and Great Outdoors are celebrated in equal measure. Stay connected to Sportsman Channel online at thesportsmanchannel.com, Facebook, Twitter and YouTube. #MyOutdoorTV
About World Fishing Network: World Fishing Network is North America's only television network, online and mobile platform dedicated exclusively to fishing and outdoor enthusiasts with programming that covers instruction, tips, tournaments, travel, food, boating, outdoor lifestyle and more. Available to cable, satellite and telco subscribers throughout the United States, Canada and the Caribbean, our lineup includes a selection of the best North American and international series and the most diverse species coverage of any TV channel hosted by some of the top anglers from North America and across the globe. For more information, please visit WorldFishingNetwork.com and follow us at Facebook and Twitter. #MyOutdoorTV
********
MEDIA CONTACTS:
Erin Erickson | Outdoor Sportsman Group | 303.615.8838 | Erin.Erickson@OutdoorSG.com
Tom Caraccioli | Outdoor Sportsman Group | 212.852.6646 | Tom.Caraccioli@OutdoorSG.com