Outdoor Channel, Sportsman Channel and World Fishing Network Weekly Programming Highlights 8/4/17
August 4, 2017
Intense Survival Training on Outdoor Channel's "Survival Science";
A Tribute to the Late Rick Carone on Sportsman Channel's "Sheep Shape"
and Giant Texas Largemouth Bass on World Fishing Network's
"Timmy Horton Outdoors"
DENVER (August 4, 2017) – The week of August 7–13 provides viewers with adrenaline-fueled hunting, shooting and fishing action with courageous survival training on Outdoor Channel, a celebration of life on Sportsman Channel and southern fishing adventures on World Fishing Network.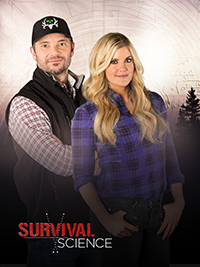 Outdoor Channel's Duck Dynasty continues to "quack" viewers up with four episodes on Monday evening. This week includes a marksmanship contest between Jase and Jep, a menacing neighborhood beaver, a competition to help Si win back his job as a grocery bagger, and a leaking warehouse roof that needs protection from a large storm that hit Monroe. Then, Nick Mundt and Laura Schara head deep into the mountains to explore survival techniques that go far beyond anything they've learned before. This week, on Survival Science, these courageous hosts subject themselves to intense survival training with the Survival Training School of California.
Next, Craig Morgan toughs out the winter wind with wounded veterans, while the deer are on their feet in cold and snowy Ohio on Craig Morgan: All Access Outdoors. Finally, the film The Cowboys is featured on Friday Night at the Movies. When his cattle drivers abandon him, rancher Wil Anderson (John Wayne) is forced to take on a group of boys as his drivers to help get his herd to market.
Outdoor Channel Highlights for August 7–13: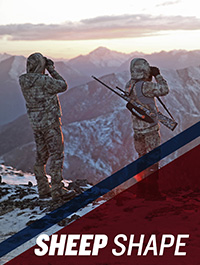 Sportsman Channel's Monday Night Hunts presented by MidwayUSA begins with Steve Rinella as he travels deep into the Amazon jungle in Bolivia to hunt, fish, and learn from a local indigenous tribe on MeatEater. Then, on Sheep Shape, the life of a man who inspired so many is celebrated. Rick Carone, fought pancreatic cancer for four and half, statistic-defying years. Join as the show looks back on his amazing life. Next, on Lock & Load Thursdays, Crimson Trace talks prototyping, 3D modeling and more with its LaserGuard Pro while the .450 Bushmaster is making noise with help from Ruger and Hornady on Guns & Ammo presented by Brownells. Finally, in this episode of GunVenture, working with Olympian Lanny Barnes, field host KJ is put to the test physically and mentally as he trains to run a 3-Gun course in Durango, Colorado.
Sportsman Channel Highlights for August 7–13: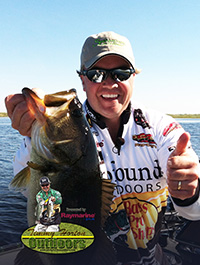 World Fishing Network's Bass Mondays hits southwestern Texas when Timmy heads back to try and crank up some giant largemouth bass on Lake Falcon on Timmy Horton Outdoors. Then, 10 anglers compete to advance in the General Tire Summit Cup from La Crosse, Wisconsin, on Major League Fishing. Next, adventures from the some of the most beautiful fishing destinations in the salty waters of the Sunshine State take place on Florida Adventure Quest. Finally, the Mexican Gulf Fishing Company has tons of options from tuna to cobia and everything in between on BigWater Adventures.
World Fishing Network Highlights for August 7–13:
Bass Mondays
Gone Fishin'
About Outdoor Channel: Outdoor Channel has been taking viewers across America and around the world on unparalleled adventures since 1993. Dedicated to the outdoor lifestyle and conservation, the independent cable network is a division of Outdoor Sportsman Group and provides a complete spectrum of riveting hunting, fishing, shooting and adventure entertainment. Outdoor Channel is the largest outdoor TV footprint in the country and is available in more than 50 countries internationally. Outdoor Channel can be viewed in HD and is accessible by broadband and mobile platforms. For program times and other information, visit www.outdoorchannel.com. Follow us on Twitter, Instagram, Facebook and YouTube. #WhatGetsYouOutdoors. #MyOutdoorTV
About Sportsman Channel: Launched in 2003, Sportsman Channel/Sportsman HD is a television and digital media company fully devoted to honoring a lifestyle that is celebrated by millions of Americans. A division of Outdoor Sportsman Group, Sportsman Channel delivers entertaining and informative programming that showcases outdoor adventure, hunting and fishing, and illustrates it through unique and authentic storytelling. Sportsman Channel embraces the attitude of "Red, Wild & Blue America" – where the American Spirit and Great Outdoors are celebrated in equal measure. Stay connected to Sportsman Channel online at thesportsmanchannel.com, Facebook, Twitter and YouTube. #MyOutdoorTV
About World Fishing Network: World Fishing Network is North America's only television network, online and mobile platform dedicated exclusively to fishing and outdoor enthusiasts with programming that covers instruction, tips, tournaments, travel, food, boating, outdoor lifestyle and more. Available to cable, satellite and telco subscribers throughout the United States, Canada and the Caribbean, our lineup includes a selection of the best North American and international series and the most diverse species coverage of any TV channel hosted by some of the top anglers from North America and across the globe. For more information, please visit WorldFishingNetwork.com and follow us at Facebook and Twitter. #MyOutdoorTV
********
MEDIA CONTACTS:
Erin Erickson | Outdoor Sportsman Group | 303.615.8838 | Erin.Erickson@OutdoorSG.com
Tom Caraccioli | Outdoor Sportsman Group | 212.852.6646 | Tom.Caraccioli@OutdoorSG.com