Outdoor Channel and Sportsman Channel Offer Fourth Annual Week-long #DeerWeek Programming
September 9, 2020

Sportsman Channel Host Jeff Danker and Country Music Recording Artist Tyler Farr Provide Viewers with Fun, Excitement and Deer as hosts of #DeerWeek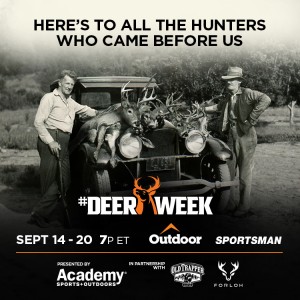 DENVER (September 9, 2020) – Outdoor Channel and Sportsman Channel launch year four of Outdoor Sportsman Group Networks' programming initiative to welcome the Fall hunting season – #DeerWeek presented by Academy Sports + Outdoors – on September 14-20 (7 p.m.–Midnight). Sportsman Channel host Jeff Danker and country music recording artist Tyler Farr provide viewers with fun, exciting and educational perspectives – in their inimitable style – about deer hunting and the upcoming season.
"This year marks the fourth annual #DeerWeek programming initiative," Outdoor Sportsman Group President and CEO Jim Liberatore said. "While 2020 has seen its share of ups-and-downs, Outdoor Channel and Sportsman Channel will focus on the excitement, camaraderie, adventure and anticipation for what we hope will be a fruitful deer hunting season."
#DeerWeek, launched in 2017, is a unique, week-long, cross-platform event featuring primetime programming showcasing deer-specific content on Outdoor Channel and Sportsman Channel. This year marks the fourth consecutive year of this specialized programming event.
#DeerWeek content also will be front and center in relevant print, digital and social media platforms owned, operated and distributed by Outdoor Sportsman Group Networks and Outdoor Sportsman Group Publishing arms. More than 35 hours of Outdoor Channel and Sportsman Channel primetime programming will be dedicated to the week-long celebration of deer hunting. Content also will be made available to Outdoor Sportsman Group Publishing's 16 magazines and 20 online websites and digital outlets including streaming video-on-demand service MyOutdoorTV (MOTV), as well as Outdoor Sportsman Group's vast array of social media platforms.
Outdoor Sportsman Group's #DeerWeek welcomes back its slate of sponsors from one year ago including presenting sponsor Academy Sports + Outdoors, as well as participating sponsor Old Trapper and associate sponsor Moultrie. Outdoor Sportsman Group also welcomes new participating sponsor Forloh and associate sponsors onXmaps, Hornady, Benelli and Realtree for #DeerWeek 2020.
For all programming, scheduling and #DeerWeek information visit: http://media.deerweek.com/deer-week.php
About Jeff Danker: Jeff is co-owner and manager of BVO Productions. He started BuckVentures in 2003 with the motto "Shoot by Sight, Walk by Faith" based off of 2 Corinthians 5:7 and has been hosting hunting shows ever since. Jeff spent time as a professional team roper before starting his career in television. In addition to hunting for a living, Jeff speaks about his faith in churches all across the country.
About Tyler Farr: Authentic and unapologetic, Tyler Farr records songs he would listen to in his truck – windows down, sound up. It just so happens country music fans want to hear the same songs. Without pandering or compromise, Farr's powerhouse vocals, real-guy relatability, and willingness to mine emotional themes and personal imperfection resonates with people searching to find themselves in the music that underscores their daily routines and future dreams. With three No. 1 songs ("Redneck Crazy," "Whiskey in My Water," and "A Guy Walks Into a Bar") and a growing string of hits, they found it in Farr. And like a weathered truck with rusty tail pipes, it can get a little loud and gritty.
About Outdoor Sportsman Group: Outdoor Sportsman Group is comprised of the world's foremost media and entertainment brands for outdoor adventure enthusiasts. It includes three leading multichannel networks: Outdoor Channel, Sportsman Channel and World Fishing Network, as well as Sportsman Channel Canada and MOTV, the world's leading subscription-based video-on-demand outdoor television content platform. The Group also consists of a number of established publishing assets: 16 outdoor magazines including Guns & Ammo, Game & Fish, Petersen's Hunting, In-Fisherman and 20 top websites, including OutdoorChannelPlus.com. Additionally, Outdoor Sportsman Group includes television production operations, Winnercomm. For more information, visit www.outdoorsg.com. #MyOutdoorTV
About Outdoor Channel: Outdoor Channel has been taking viewers across America and around the world on unparalleled adventures since 1993. Dedicated to the outdoor lifestyle and conservation, the independent cable network is a division of Outdoor Sportsman Group and provides a complete spectrum of riveting hunting, fishing, shooting and adventure entertainment. Outdoor Channel is the largest outdoor TV footprint in the country and is available in more than 50 countries internationally. Outdoor Channel can be viewed in HD and is accessible by broadband and mobile platforms. For program times and other information, visit www.outdoorchannel.com. Follow us on Twitter, Instagram, Facebook and YouTube. #WhatGetsYouOutdoors. #MyOutdoorTV
About Sportsman Channel: Launched in 2003, Sportsman Channel/Sportsman HD/Sportsman Channel Canada (added in 2019) are television and digital media networks fully devoted to honoring a lifestyle that is celebrated by millions of North Americans. A division of Outdoor Sportsman Group, Sportsman Channel/Sportsman Canada delivers entertaining and informative programming that showcases outdoor adventure, hunting and fishing, and illustrates it through unique and authentic storytelling. Sportsman Channel/Sportsman Channel Canada embrace the attitude of celebrating the Great Outdoors in equal measure. Stay connected to Sportsman Channel online at thesportsmanchannel.com, Facebook, Twitter and YouTube. #IAmSportsman. #MyOutdoorTV
About Outdoor Sportsman Group Publishing: As a premier destination for the most avid outdoors enthusiasts, Outdoor Sportsman Group's publishing division is widely recognized for its strong special-interest multichannel brands, including Guns & Ammo, Game & Fish, Petersen's Hunting, In-Fisherman and 12 other leading magazines that reach more than 28 million readers. Outdoor Sportsman Group's network of websites, including OutdoorChannelPlus.com, BassFan.com, OutdoorChannel.com, SportsmanChannel.com and WorldFishingNetwork.com, attracts more than 78 million annual unique visitors, and OSG TV produces hundreds of TV episodes of original branded hunting, sport shooting and fishing programming that airs on Outdoor Sportsman Group's broadcast entities. Visit http://outdoorsg.com for more information. #MyOutdoorTV
About MyOutdoorTV (MOTV): MyOutdoorTV is the No. 1 global, subscription, streaming service from Outdoor Sportsman Group created just for outdoor lifestyle enthusiasts. MOTV features favorite Outdoor Channel, Sportsman Channel, World Fishing Network, Sportsman Channel Canada television shows, the entire Hunters Video library and exclusive Major League Fishing content, acquired content from around the world, as well as exclusive MOTV Originals. MOTV is the pre-eminent voice for all outdoor enthusiasts and super serves the outdoor enthusiasts with an expansive acquired library of the best hunting, fishing and shooting programming in long and short form, recipes, tips and tricks, how-to instructional videos, as well as educational and exclusive content focusing on improving success in the field and on the waterways. MOTV is powered by the four networks, along with additional exclusive content available from Outdoor Sportsman Group's established integrated media arm that includes 16 category-leading outdoor magazines, such as: Guns & Ammo, Game & Fish, Petersen's Hunting, In-Fisherman and 20 top websites, including: OutdoorChannelPlus.com. MOTV is available in English, French, German, Swedish and Danish. Subscribe to MOTV at www.MyOutdoorTV.com , as well as the following streaming platforms: Apple IOS (iPhone and iPad), Android (phone and tablet), Roku, Apple TV, Xbox, Amazon Channels, Amazon Fire TV, Samsung SmartTV and LG SmartTV. MOTV is available in 162 markets worldwide.
********
MEDIA CONTACT:
Tom Caraccioli | Tom.Caraccioli@OutdoorSG.com