Outdoor Channel's Eva Shockey Breaks Into 'The Hollywood Reporter's' Top 10 TV Personalities Chart
July 6, 2017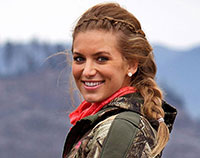 DENVER (July 5, 2017) – Outdoor Channel host Eva Shockey has broken into The Hollywood Reporter's Top 10 TV Personalities chart for the first time. Shockey, co-host of Jim Shockey's Hunting Adventures debuts at No. 10 on the latest list.
The Top 10 also includes: Tyra Banks (1), HGTV's Joanna Gaines (2), Tonight Show host Jimmy Fallon (3), MSNBC's Chris Hayes (4), noted celebrity chef Gordon Ramsay (5), Talk/Game show host Steve Harvey (6), political satirist/comedian Bill Maher (7), The Late Show host Stephen Colbert (8) and Martha Stewart (9).
The Hollywood Reporter's Top TV Personalities chart is a ranking of the most popular television personalities on Facebook, Instagram, Twitter, YouTube and Google Plus. The chart blends social engagement on the aforementioned platforms along with weekly additions of followers/subscribers. Television personalities are defined by THR as performers primarily known for their appearances on their own TV series, including hosts of entertainment/news shows. The latest tracking week ended June 27.
A world-famous bowhunter who defies the stereotype that hunting is a man's game, Eva Shockey is a real-life Katniss Everdeen – a television and social media star at the forefront of a new wave of women and girls in outdoor sports.
"Eva is a magnanimous personality and it is not surprising that a mainstream publication like The Hollywood Reporter is taking notice," Outdoor Sportsman Group President and CEO, Jim Liberatore said. "We suspect more media outlets will take notice of Eva and our many outdoor personalities as they continue to shine a light on our industry and help promote the outdoor lifestyle, as well as educate people on conservation efforts that may be misunderstood."
Shockey also will be releasing her first book: "Taking Aim: Daring to be Different, Happier, and Healthier in the Great Outdoors" (Convergent Books) on August 29, 2017.
About Outdoor Channel: Outdoor Channel has been taking viewers across America and around the world on unparalleled adventures since 1993. Dedicated to the outdoor lifestyle and conservation, the independent cable network is a division of Outdoor Sportsman Group and provides a complete spectrum of riveting hunting, fishing, shooting and adventure entertainment. Outdoor Channel is the largest outdoor TV footprint in the country and is available in more than 50 countries internationally. Outdoor Channel can be viewed in HD and is accessible by broadband and mobile platforms. For program times and other information, visit www.outdoorchannel.com. Follow us on Twitter, Instagram, Facebook and YouTube. #WhatGetsYouOutdoors. #MyOutdoorTV
********
MEDIA CONTACTS:
Tom Caraccioli | Outdoor Sportsman Group | 212.852.6646 | Tom.Caraccioli@OutdoorSG.com
Erin Erickson | Outdoor Sportsman Group | 303.615.8838 | Erin.Erickson@OutdoorSG.com