Outdoor Channel's Original Series "Carter's W.A.R." Takes Viewers to the Front Line in Africa's Fight for Survival, Conservation and Wildlife Animal Response on Monday, December 28 at 9 p.m. ET/PT
December 14, 2015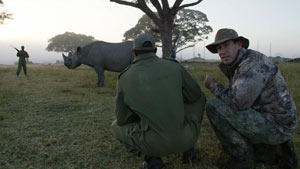 DENVER (December 14, 2015) – Having grown up in the bush of Africa, native son of Zimbabwe, Ivan Carter, is taking it upon himself to call attention to and help correct the wrongs he has seen – and continues to see in his homeland – with the Outdoor Channel original series Carter's W.A.R. (Wildlife Animal Response) presented by Nosler. Carter's W.A.R. airs exclusively on Outdoor Channel and will premiere on Monday, December 28 at 9 p.m. ET.
Carter, host, is a conservationist, professional hunting guide, photographer and leading voice of the conservationist movement in the "Birthplace of Humanity." His goal is to spread his message around the world. A tireless advocate and educator, Carter is committed to telling viewers the untold story of his quest to save his homeland in Carter's W.A.R.
Africa is dying. From heavily armed hordes of poachers who butcher endangered elephants and rhinoceros, to the exploding birthrate of Africa's population; the continent is in a constant conflict to symbiotically provide for its people and habitat. And the two are at odds. The confines of the land are bursting at the seams and Ivan Carter is on the front line trying to save Africa and advance the ideology of conservation as a life-saving process and solution.
For a sneak peek, click here: Premiere
"Carter's W.A.R. is an example of how one man with a message can help change the world in which we live," said Jim Liberatore, CEO and President of Outdoor Sportsman Group Networks. "Ivan Carter is one man trying to educate the world about the importance of conservation and how we all can help accomplish that goal globally."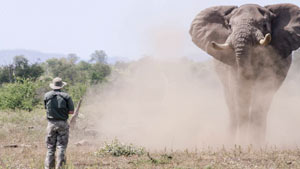 Carter will take viewers on a journey through the bushes of Africa where he confronts the wildlife transgressors trying to destroy its awe-inspiring habitat for tusks and horns. Carter's W.A.R. also will help viewers understand the constant struggle the people of Africa endure just to fetch water from the nearby river and the importance and duty of conservation practices. It is a life and death struggle everyday and Ivan Carter will tell those stories and more.
"This show is more about how we – as members of the world community – can help educate people unfamiliar with the daily life hardships of the African people," espoused Carter. "Africa is the birthplace of civilization and we are working hard so it does not become the deathbed."
Check local listings or visit www.OutdoorChannel.com/ChannelFinder to find the network in
your area. Engage social media using: #CartersWAR.
About Outdoor Channel
Outdoor Channel has been taking viewers across America and around the world on unparalleled adventures since 1993. Dedicated to the outdoor lifestyle and conservation, the independent cable network is a division of Outdoor Sportsman Group and provides a complete spectrum of riveting hunting, fishing, shooting and adventure entertainment. Outdoor Channel is the largest outdoor TV footprint in the country and is available in more than 50 countries internationally. Outdoor Channel can be viewed in HD and is accessible by broadband and mobile platforms. For program times and other information, visit www.outdoorchannel.com. Follow us on Twitter, Instagram, Facebook and YouTube, and download our iPhone and iPad app. #WhatGetsYouOutdoors
********
MEDIA CONTACTS:
Tom Caraccioli | Outdoor Sportsman Group | 212.852.6646 | tcaraccioli@thesportsmanchannel.com
Nancy Zahkary | Brainerd Communicators | 212.986.6667 | nancy@braincomm.com