Outdoor Sportsman Group Premieres New Season of 'Kayak Fishing Fun' Multimedia Initiative across Network Television, Print, Social and Digital Destinations
May 17, 2022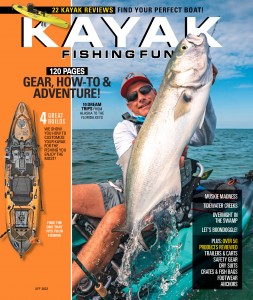 DENVER (May 17, 2022) – With the exploding interest in kayak fishing, Outdoor Sportsman Group (OSG) is premiering a one-hour, limited commercial interruption special broadcast called Kayak Fishing Fun on Outdoor Channel, Sportsman Channel and World Fishing Network on May 21 at 7 p.m. ET. Additionally, kayak enthusiasts can pick up a copy of the 120-page special interest publication by the same name at bookstores, newsstands or purchase online here. Finally, consumers can watch digital content pieces on kayakfishingfun.com, YouTube and streaming platform, MyOutdoorTV.
"Kayak fishing is quite possibly the most fun, intimate and enjoyable form of fishing ever invented, and in many situations, it's also the most productive," Outdoor Sportsman Group Chief Operating Officer, Publishing and Branded Media Michael Carney said. "Kayak Fishing Fun covers everthing from the basics of picking the right type of kayak for the fishing you enjoy most, to transportation and rigging options, and will make sure consumers learn everything they need to know before and after getting on the water."
Content in the TV program, print and online videos will focus on the basics of kayak fishing and showcase why every angler should own at least one kayak. Topics covered will include:
How to choose the right kayak for you
Paddle, peddle and power options
How to choose the right paddle for your kayak dimensions
PFD's and safety equipment required
How to rig your kayak for success
The benefits of an AMA kit
How a drysuit can extend your fishing and prevent hypothermia
Transportation options.
Kayak Fishing Fun will air across Outdoor Channel, Sportsman Channel and World Fishing Network weekly after the May 21 debut. Check local listings for exact days and times on each network.
Sponsors of Kayak Fishing Fun include: Hobie Cat Company, Johnson-Outdoors Watercraft, Big Adventures, Mustang Survival, NRS, Inc, Mariner Sails, Lithium Battery Power and Jackson Kayak.
About Outdoor Sportsman Group: Outdoor Sportsman Group is comprised of the world's foremost media and entertainment brands for outdoor adventure enthusiasts. It includes three leading multichannel networks: Outdoor Channel, Sportsman Channel and World Fishing Network, as well as Sportsman Channel (Canada) and MOTV, the world's leading subscription-based video-on-demand outdoor television content platform. The Group also consists of numerous established publishing assets: 15 outdoor magazines including Florida Sportsman, Game & Fish, In-Fisherman and 20 top websites, including OutdoorChannelPlus.com. Additionally, Outdoor Sportsman Group includes television production operations, Winnercomm. For more information, visit www.outdoorsg.com. #MyOutdoorTV
********
MEDIA CONTACT:
Tom Caraccioli | Outdoor Sportsman Group | Tom.Caraccioli@OutdoorSG.com