Outdoor Sportsman Group's MyOutdoorTV Continues Content Acquisition with Michael Waddell's 'Bone Collector'
October 2, 2017

Waddell Ushers in the Fall Hunting Season as Host of #DeerWeek, Oct. 15-21
on Outdoor Channel and Sportsman Channel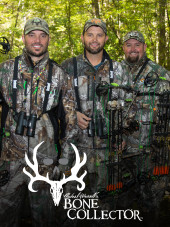 NEW YORK (October 2, 2017) – Outdoor Sportsman Group (OSG) continues to obtain the best in outdoor lifestyle television content for its outdoor global, subscription-based, video on-demand service MyOutdoorTV (MOTV) with the acquisition of programming from Michael Waddell's Bone Collector.
Outdoor Sportsman Group has obtained the entire Bone Collector library, and this trove of content will continue to grow with the addition of new content each year from the above-mentioned series. MOTV and Waddell will work together to promote MOTV as the exclusive destination for Michael Waddell's Bone Collector.
"The acquisition of Michael Waddell's outdoor lifestyle programming library is another partnership with one of the biggest names in the outdoor industry. By coalescing content in one group, OSG and our producers, we will be able to utilize that content in many ways, all of which will support our industry," said Outdoor Sportsman Group CEO and President, Jim Liberatore. "I feel it is imperative that our entire industry work as one to promote our lifestyle. On top of this acquisition, Michael will be helping Outdoor Channel and Sportsman Channel launch a new programming initiative – #DeerWeek – that we hope will become destination television viewing for the week of October 15-21 and years to follow. We are very excited to continue to work and have the support of such talented producers like Michael."
The acquisition of exclusive content from Waddell's library follows other MOTV acquisitions of best-in-class programming including the libraries from Jim Shockey and Shockey Productions, Brian "Pigman" Quaca, Heartland Bowhunter, the late Jose Wejebe's Spanish Fly, Bill Jordan's Realtree Outdoors and Ralph and Vicki Cianciarulo's Archer's Choice and The Choice programming lineups. The OSG initiative is designed to partner with its best producers, talent and hosts to acquire content for linear, digital, print and mobile platforms with one click.
"We're pumped to have Bone Collector on MOTV," said Waddell. "We've worked with the OSG team for years and are excited to have our library available to outdoorsmen and women all over, on demand!"
Michael Waddell's Bone Collector premiered in 2009, exclusively on Outdoor Channel, and promised to reinvent the outdoor television genre. Bone Collector documents the culture of the hunter; the brotherhood of sportsmen that have true passion for the game, the land and the lifestyle. With world-class production and marketing teams behind it, this program brings a fresh, honest and youthful approach to America's leader in outdoor television.
MyOutdoorTV is the new global, paid-subscription, video on-demand service from Outdoor Sportsman Group created just for outdoor lifestyle enthusiasts. The subscriber-based service can be found in Apple iTunes and Google Play App stores for users across the globe. The retail price of MOTV is (US) $9.99 per month or (US) $99.99 annually and includes a seven-day free trial period.
For more on MyOutdoorTV please visit: www.motv.com. #MYOUTDOORTV
About MOTV: The global, subscription-based, video-on-demand service provides the best outdoor programming, lifestyle content and access to favorite Outdoor Channel, Sportsman Channel and World Fishing Network television shows and is the pre-eminent voice for all outdoor enthusiasts. MOTV – powered by the three networks – accomplishes this with an expansive acquired library of the best hunting, fishing and shooting programming in long and short form, recipes, tips and tricks, how-to instructional videos, as well as educational and exclusive content focusing on improving success in the field and waterways. Along with the three networks, content is available from Outdoor Sportsman Group's established integrated media arm that includes 15 outdoor magazines, such as: Guns & Ammo, Game & Fish, In-Fisherman, Florida Sportsman and Wheels Afield and 19 top websites, including: BassFan.com. Exclusive episodes, as well as live event coverage and behind-the-scenes footage will be added in the future.
About Outdoor Sportsman Group: Outdoor Sportsman Group is comprised of the world's foremost media and entertainment brands for outdoor adventure enthusiasts. It includes three leading multichannel networks: Outdoor Channel, Sportsman Channel and World Fishing Network, as well as MOTV, the world's leading subscription outdoor television content platform. The Group also consists of a number of established integrated media assets: 15 outdoor magazines including: Guns & Ammo, Petersen's Bowhunting and Florida Sportsman, and 19 top websites, including: BassFan.com. Additionally, Outdoor Sportsman Group includes television production operations, Winnercomm.
********
MEDIA CONTACTS:
Tom Caraccioli | Outdoor Sportsman Group | 212.852.6646 | Tom.Caraccioli@OutdoorSG.com
Erin Erickson | Outdoor Sportsman Group | 303.615.8838 | Erin.Erickson@OutdoorSG.com