Q&A with Major League Fishing President and CEO Jim Wilburn
October 13, 2020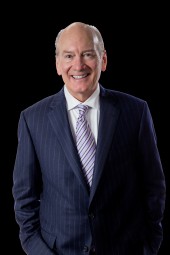 As Major League Fishing (MLF) continues to experience success in television ratings and viewership, events and level of performance by its professional anglers, MLF President and CEO Jim Wilburn took a few minutes from his busy schedule to discuss 2020 and beyond.
Q: Like other companies and events in the country, MLF experienced challenges in 2020 due to COVID-19, such as cancelled tournaments and filming. What were some of the trials you experienced when you were ready to go back on the water and begin filming the tournaments?
A: You've got that right, 2020 was an interesting year! As a company, we understood the value of protecting one another and our neighbors and we made the decision to cancel tournaments and shelter in place for 10 weeks. However, as various entities began to reopen around the nation, we realized the need to return to competition with our made-for-TV events, albeit in a closed environment. Our amazing team of professionals went to great lengths to outline a detailed list of protocols with the intent to provide a healthier, safe environment for each individual on-site at every event, along with our production studios in Tulsa. Our plan was compliant with current local, state and federal guidelines that enabled us to restart our season and provide the excellent viewing experience our fans have come to expect.
Q: Recently, it was noted that MLF is "dominating" its competitors. Can you elaborate on that?
A: It was a bold statement … but it's the truth. Recently, some television viewership numbers were released that were impressive, however there was confusion amongst a lot of fans and sponsors in regard to some of the terms that were used. "Reach" has been a buzzword that has gained popularity in the past few years, but it doesn't really mean much. When you compare apples-to-apples – the ratings, which advertisers really care about – there is no comparison. And that doesn't take into consideration our programming that airs on CBS, Discovery and the CBS Sports Network. When it comes to television, Major League Fishing stands head and shoulders above any others.
Q: Can you explain the appeal of watching tournament fishing on television?
A: If our fans can't be on the water fishing, the next best thing is watching the best anglers in the world on television. The MLF SCORETRACKER® has revolutionized tournament fishing on television, bringing the stress and anticipation that our professional anglers feel into living rooms and offices around the world. Using real-time scoreboards, timeclocks and penalties, SCORETRACKER® propels tournament fishing into the realm of other professional stick-and-ball sports. It creates the tense, action-packed live competition that sports fans crave. Watching tournament fishing in general compels viewers to expand their knowledge of the sport and further their level of expertise through instruction by our pros. SCORETRACKER® increases the excitement for the viewer who has a front-row-seat to the professional anglers' strategy, split-second decision-making and real-time effects of those decisions. It creates the perfect environment to hold the attention of both veteran anglers and viewers who are tuning in for the first time.
Q: What are some of the highlights from this crazy, COVID-shortened, 2020 season?
A: Despite the challenges that we have all faced this year, Major League Fishing has truly had a fantastic season. To start the year off we announced a new variable minimum weight requirement for the Bass Pro Tour that raised the standard on the size of bass weighed in our events. The fisheries are assessed almost like you would in golf, where par is different at every course. The minimum weight has been a rule change that has been well received by both competitors and fans alike.
We've seen the emergence of the young guns of the sport, and they've taken the reins and dominated in quite a few events this season. Jordan Lee won the inaugural Heavy Hitters event and also claimed his first career Bass Pro Tour Angler of the Year title, while Jacob Wheeler won the first Bass Pro Tour event of the season on Lake Eufaula and also added a Toyota Series and Tackle Warehouse Pro Circuit victory to his resume. Justin Lucas was another angler that had a great year. His first day of competition at the Bass Pro Tour Stage Five at Sturgeon Bay – weighing 50 smallmouth bass for 141 pounds, 9 ounces, in ONE day – is etched forever into the history books.
Another highlight for us has been the unification of our two brands – MLF and FLW. After COVID forced the Bass Pro Tour to shorten its season, many of the Bass Pro Tour anglers took advantage of a special invitation to join FLW's Tackle Warehouse Pro Circuit for the remaining three events in their season. The events, dubbed 'Super Tournaments' because of the expanded field and expanded prize pools, were a massive success. They were so well received by the anglers and the fans that the decision has already been made to continue to allow the Bass Pro Tour anglers to compete on the Tackle Warehouse Pro Circuit in 2021, if they choose.
Q: MLF is seen on Outdoor Channel, Sportsman Channel, World Fishing Network, as well as several other cable networks while your competitor is seen via the ESPN networks. How is it that MLF is able to carry 86 percent of the bass fishing programming viewership on all of television?
A: I truly believe it's because of our unique format and the excitement and intensity that our anglers and SCORETRACKER® bring to every event. That can be the only explanation, because we're competing for eyeballs against an established 41-year-old brand. SCORETRACKER® has added the "live sport" element to bass fishing like other sports. Sports fans, even non-anglers, love suspense. When the clock is ticking down, and an angler is on the bubble, or close to being eliminated, or close to qualifying…there is nothing like it. It is extremely exciting, makes for great television, and has been a massive hit with our audiences.
Q: What makes MLF different from your competitors' programming?
A: In addition to having the best bass anglers in the world, the difference is Major League Fishing's catch-weigh-immediate release format. However, with the addition of the MLF BIG5 circuits, MLF is now a one-stop shop for tournament anglers that enjoy any format, from High School all the way through the Bass Pro Tour. Another benefit that we have is that our programming airs on multiple different networks, including national outlets like CBS, Discovery and CBS Sports, but also the smaller targeted niche networks like Outdoor Channel, Sportsman Channel and the World Fishing Network. We also have partnered with a terrific streaming service – MyOutdoorTV (MOTV) – that allows our fans to stream every show in the history of MLF – both live and on-demand. MOTV truly sets us apart from the competition and allows us to reach fans across the world.
Q: What can we expect to see next year?
A: As we wrap up 2020, we're extremely excited at some of the things we have in the works for 2021. Any day now we expect to announce the Bass Pro Tour schedule, which features an incredible line up of fisheries – both storied and new to our audience. As I mentioned before, there will be quite a few Bass Pro Tour anglers that choose to compete in the Tackle Warehouse Pro Circuit this season. It will be extremely interesting to see how they fare in the differing formats of Major League Fishing's catch-weigh-immediate release and the MLF BIG5's five-biggest-fish formats. We're hosting our championship event, REDCREST, in our home city of Tulsa in February. The extremely popular Heavy Hitters All-Star event will return, and someone is going to win another $100,000 for catching the single largest bass of the final day there. We'll continue to roll out special opportunities for more anglers to experience the Major League Fishing catch-weigh-immediate release format, including the MLF Wiley X College Faceoffs, the Tackle Warehouse TITLE and the Pro Circuit championship. We fully expect 2021 to be Major League Fishing's coming out party. And we're excited to see how it all shakes out.
********
MEDIA CONTACT:
Tom Caraccioli | Outdoor Sportsman Group | Tom.Caraccioli@OutdoorSG.com