Season 2 of "Duck Dynasty" to Air on Outdoor Channel Beginning Monday, March 7 at 7:30 p.m. ET/PT
March 4, 2016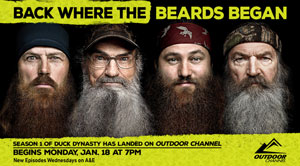 DENVER (March 4, 2016) – Outdoor Channel, the syndicated cable home of the popular television series Duck Dynasty®, will launch Season 2 of the show, continuing with its format of airing back-to-back episodes on Monday nights at 7 p.m. and 7:30 p.m. ET/PT. Launching directly on the heels of the Season 1 finale, viewers can continue to enjoy another season of classic Robertson family shenanigans as they participate in peculiar day-to-day activities like lawn mower races, familial outdoor bonding, new business endeavors and more. Don't miss the premiere of Season 2 on March 7.
Duck Dynasty is the most-watched unscripted series in cable history. While the colorful Robertson family members and other cast of characters continue their antics in original episodes airing on A&E, Outdoor Channel also is finding success with the hit franchise.
"Adding Duck Dynasty to our Monday night roster of 'real life adventure' television has generated a lot of excitement among viewers," said Jim Liberatore, CEO and President of Outdoor Sportsman Group Networks. "We remain enthusiastic about acquiring the syndicated rights to air the first six seasons of the show and we can already see the positive impact it's had on viewership."
Boasting the tagline, "back where the beards began," Outdoor Channel continues to support the success that the Robertson family has built since they launched their very first show on the network. In addition to appearing in Duck Dynasty, Willie Robertson, one of the show's stars, also appears in new episodes of another Outdoor Channel favorite, Buck Commander Protected by Under Armour. "We are thrilled the Robertson family remains a hallmark brand on Outdoor Channel where they made their television debut," added Liberatore.
Duck Dynasty is produced for A&E Network by Gurney Productions. Executive producers for Gurney Productions are Deirdre Gurney and Scott Gurney. Executive producers for A&E are Brad Holcman and Laurie Sharpe. New episodes of the hit show air Wednesdays on A&E.
For a sneak preview of Duck Dynasty, Season 2 on Outdoor Channel click here: Promo
Tune into Outdoor Channel for favorites like Duck Dynasty, as well as other increasingly diverse outdoor lifestyle programming.
About Outdoor Channel
Outdoor Channel has been taking viewers across America and around the world on unparalleled adventures since 1993. Dedicated to the outdoor lifestyle and conservation, the independent cable network is a division of Outdoor Sportsman Group and provides a complete spectrum of riveting hunting, fishing, shooting and adventure entertainment. Outdoor Channel is the largest outdoor TV footprint in the country and is available in more than 50 countries internationally. Outdoor Channel can be viewed in HD and is accessible by broadband and mobile platforms. For program times and other information, visit www.outdoorchannel.com. Follow us on Twitter, Instagram, Facebook and YouTube, and download our iPhone and iPad app. #WhatGetsYouOutdoors
********
MEDIA CONTACT:
Tom Caraccioli | Outdoor Sportsman Group | 212.852.6646 | tcaraccioli@thesportsmanchannel.com