Season 7 of Leupold's Pigman: The Series Debuts with Once-in-Lifetime Maine Moose Hunt
February 10, 2016
DENVER (February 10, 2016) – One of the hardest species tags to draw is a moose tag in Maine, but that doesn't stop Brian "Pigman" Quaca of Leupold's Pigman: The Series from getting it done. Season 7 of Pigman: The Series finds Quaca with a new best friend in Maine since that friend added him as the hunter on a Maine moose tag. Now, all Quaca has to do is draw back his arrow on a 1,000-pound bull. Easy, right? Season 7 of Leupold's Pigman: The Series debuts exclusively on Sportsman Channel Sunday, February 14 at 8:30 p.m. ET.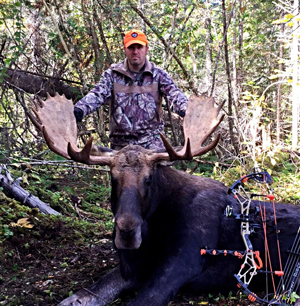 Click here for a sneak peek: http://www.thesportsmanchannel.com/shows/pigman-the-series/
Season 6 of Leupold's Pigman: The Series was a year of recovery and reflection for Quaca after a horrific highway accident in December, 2014 that left him recuperating more than hunting. Season 7 finds him back with a renewed sense of self and a new motto tattooed on his arm: Vsetko Umiera , which is Slovic for: "everything dies."
"Vsetko Umiera means to live through it and don't forget where you came from – and to appreciate some of the things I took for granted. That's not going to happen anymore," said Brian "Pigman" Quaca.
One of Quaca's dreams is to bowhunt for moose and the best chance of getting one is Maine. Except for the nearly 20-year wait to draw a tag. But Quaca made a new friend: Seth Legere, firearms manager for Kittery Trading Post, during a recent visit to Maine. And Legere offered to add Quaca's name as a subpermittee to his draw, which means if Legere's name is drawn, Quaca can be the hunter. "I still can't believe Seth did that for me. Unbelievable. I can never repay Seth for what he did. I might have to give him a lifetime of pig hunts in Texas," said Quaca.
It takes all of the five days allotted for the hunt and miles of walking, and calling, and walking. Quaca has two close encounters, but one bull caught wind of the hunters and immediately left while the other bull was just a baby. Will Quaca be able to add his name to the moose board in town? Or will the dream of a moose kill by bow stay that way for another 20 years?
Also, coming up in Season 7: Pigman heads to Colorado for an antelope hunt with Fred and Michele Eichler where Quaca is still adjusting to his new bow set up. Plus, Quaca receives redemption when he's invited back to Africa for a daytime bush pig hunt. Will success find him this time?
Learn more about Pigman: The Series at http://Facebook.Com/PigmanTV on Twitter http://Twitter.com/SmokinPork on Instagram http://instagram.com/pigmantv and online http://PigmanTV.com
********
About Pigman: The Series: Set deep in the heart of Texas, Leupold's Pigman: the Series takes viewers on a wild ride with its ever unpredictable and crazy Host/Executive Producer, Brian 'Pigman' Quaca, at the helm.  Now in its seventh season, Pigman: the Series has earned rank as one of Sportsman Channel's top-rated shows by entertaining the masses with a plethora of hunts and locations.  Of course Pigman's pursuit of pigs are always his love and passion, but don't think he isn't capable of sharing the love to any species who dares to step out in front of his sights. Pigman: the Series is Executive Produced by four-time Sportsman Channel Host of the Year, Brian 'Pigman' Quaca, in association with Luce Change Productions and Duality Filmworks. Learn more at http://PigmanTV.com
MEDIA CONTACTS:
Michelle Scheuermann | BulletProof Communications | 651.964.0264 | michelle@bulletproofcomm.com
Skylar Isdale | Outdoor Sportsman Group | 303.615.8838 | sisdale@thesportsmanchannel.com