Season Five of Winchester Deadly Passion Returns Sunday 11:30 a.m. ET on Sportsman Channel
January 8, 2016
MINNETONKA, MN; (January 8, 2016) — Season five of Winchester Deadly Passion with host Melissa Bachman returns to Sportsman Channel Sundays at 11:30 a.m. ET with a combo antelope – mule deer hunt in Colorado. This early season outing has Bachman bowhunting for antelope and velvety muleys – and even with the pre-rut bachelors running together, this spot and stalk challenges her. Tune in for great footage of big buck muleys on Winchester Deadly Passion, on Sportsman Channel Sunday, January 10 at 11:30 a.m. ET.
Watch a sneak peek here: http://www.thesportsmanchannel.com/shows/winchesters-deadly-passion/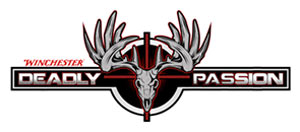 "Over the years I'm always trying to figure out what hunt is best during what time of year. Late August and early September is a tough time, but I've discovered big, velvety mule deer and I'm going after them with Joey Menegatti of Story Creek Outfitters," said Bachman.
Bachman and Menegatti begin their hunt over a watering hole for antelope. But sitting in a hot blind for 12 hours can test any hunter's patience. "For some reason, the antelope weren't even coming in to the watering hole. You need great patience and be mentally tough to sit in a hot blind for this long," stated Bachman. So the crew switches gears to something more physical – spot and stalking muleys.
Even spot and stalking isn't a guaranteed way to get a buck as Bachman and Menegatti find themselves within arm's reach of one opportunity after another. "Viewers I think will appreciate the effort that goes into a spot and stalk bowhunt this early in the season – you have to be patience as maybe one in seven stalks actually works," concluded Bachman.
Learn more about Winchester Deadly Passion at http://MelissaBachman.Com on, Instagram at http://Instagram.com/Melissa_Bachman and http://Facebook.Com/WinchesterDeadlyPassion
About Winchester Deadly Passion: Every good hunter needs a solid role model, and Melissa Bachman, host of Winchester Deadly Passion, fits that bill perfectly with a unique ability to share her love for hunting with passionate fans and viewers. Winchester Deadly Passion is 26 weeks of non-stop action and pure entertainment as Melissa travels the globe going head-to-head with everything from world-class red stag and thousand pound gators to Boone and Crocket whitetails and thunderous bull elk. With rifle, bow or shotgun in hand, Melissa's fast-paced, in-the-moment hunting style will keep you on the edge of your seat, while her expertise and decades of experience give viewers useful tips and strategies they can use afield.
About Winchester Ammunition
The iconic Winchester brand celebrates 150 years of legendary excellence in 2016—a historic milestone representing a steadfast commitment to the hunting and shooting sports traditions and future generations of sportsmen. A world leader in delivering innovative products, Winchester is The American Legend, a brand built on integrity, hard work and a deep focus on its loyal customers. Learn more about the history of Winchester by visiting Winchester.com or connect with us on Facebook at Facebook.com/WinchesterOfficial.
###
Press Contacts:
Michelle Scheuermann, BulletProof Communications, LLC, P: 651.964.0264; michelle@bulletproofcomm.com