Celebrating Giant Sportfish Catches in In-Fisherman Magazine July Issue
June 21, 2022

Celebrating Giant Sportfish Catches in In-Fisherman Magazine July Issue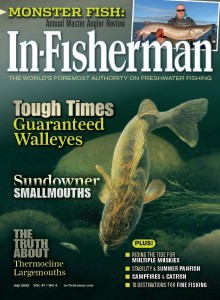 DENVER (June 21, 2022) – The July issue of Outdoor Sportsman Group Publishing's In-Fisherman Magazine – on newsstands today – delivers timely and cutting-edge strategies for catching the most popular sportfish sought by freshwater anglers, from largemouth bass and smallmouth bass to walleyes and panfish, pike and muskies, catfish, and more. Special Master Angler annual report spans six pages and more than 400 monster fish catches. Find and catch more and bigger fish—from the world's foremost authority on freshwater fishing.
Highlights of the July issue of In-Fisherman Magazine – on newsstands June 21 – include:
BASS LOCATION: Reading temperature and the thermocline for catching more summer bass.
SUNDOWNER SMALLMOUTHS: How does light key the bite?
LIVEBAIT WALLEYES: When old-school minnow methods score big.
MAGICAL MUSKIE DAYS: Multiple toothies in a day? Understanding the factors that combine to make for remarkable fishing.
SUMMERTIME SLABS: Look to green vegetation now for bull bluegills, crappies and more.
CAMPFIRE CATFISH: Take a trip back in time with Zacker and Toad on the river for channel cats.
MASTER ANGLER: Annual roundup of giant sportfish catches in In-Fisherman's Master Angler Awards program.
And More: New and noteworthy product reviews; timely adventure tips; science bits; Marine Scene—working with rod holders; continuing adventures of North with Doc; and Reflections—stories with a bit of philosophy, a moment of nostalgia.
For more information on subscriptions and content from the In-Fisherman brands, visit: www.in-fisherman.com.
About Outdoor Sportsman Group: Outdoor Sportsman Group is comprised of the world's foremost media and entertainment brands for outdoor adventure enthusiasts. It includes three leading multichannel networks: Outdoor Channel, Sportsman Channel and World Fishing Network, as well as Sportsman Channel (Canada) and MOTV, the world's leading subscription-based video-on-demand outdoor television content platform. The Group also consists of numerous established publishing assets: 15 outdoor magazines including Guns & Ammo, Game & Fish, Petersen's HUNTING, In-Fisherman and 20 top websites, including OutdoorChannelPlus.com. Additionally, Outdoor Sportsman Group includes television production operations, Winnercomm. For more information, visit www.outdoorsg.com. #MyOutdoorTV
About Outdoor Sportsman Group Publishing: As a premier destination for the most avid outdoors enthusiasts, Outdoor Sportsman Group's publishing division is widely recognized for its strong special-interest multichannel brands, including Guns & Ammo, Game & Fish, Petersen's HUNTING, In-Fisherman and 11 other leading magazines that reach more than 28 million readers. Outdoor Sportsman Group's network of websites, including OutdoorChannelPlus.com, BassFan.com, Outdoorchannel.com, Sportsmanchannel.com and WFN.com, attracts more than 78 million annual unique visitors, and OSG TV produces hundreds of TV episodes of original branded hunting, sport shooting and fishing programming that airs on Outdoor Sportsman Group's broadcast entities. Visit http://outdoorsg.com for more information. #MyOutdoorTV
********
MEDIA CONTACT:
Tom Caraccioli | Outdoor Sportsman Group | Tom.Caraccioli@OutdoorSG.com