Outdoor Sportsman Group Promotes Ross Purnell to Publisher of 'Fly Fisherman' Magazine
April 12, 2018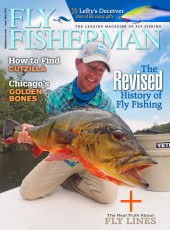 DENVER (April 9, 2018) – Outdoor Sportsman Group's Fly Fisherman magazine has named Ross Purnell as its new publisher. The announcement was made today by Outdoor Sportsman Group Publishing and Branded Media Chief Operating Officer, Michael Carney.
Purnell also will continue to function as the magazine's editor, a role he's filled since July 2008. He has been on the editorial staff of the magazine since July 1996.
"Ross has more than 30 years of history with Fly Fisherman," Carney said. "He learned to fly fish from its pages, became a guide and a magazine advertiser, and has a broad range of publishing experience in the digital and multimedia world. His passion for the sport and his relationships in the industry make him uniquely suited to guide Fly Fisherman through its 50th anniversary celebrations and beyond."
Purnell lives in Palmyra, Pennsylvania and works in the Outdoor Sportsman Group's Harrisburg office. He has travelled the world with a fly rod and is also an avid rock and ice climber. If he's not on top of a mountain, he's down in the valley with a fly rod in his hand.
About Outdoor Sportsman Group: As a premier destination for the most avid outdoors enthusiasts, Outdoor Sportsman Group is widely recognized for its strong special-interest multichannel brands, including Fly Fisherman, In-Fisherman, Florida Sportsman, and Game & Fish along with 11 other leading magazines that reach more than 28 million readers. Outdoor Sportsman Group's network of websites, including BassFan.com, Outdoorchannel.com, Sportsmanchannel.com and WFN.com, attracts more than 78 million annual unique visitors, and OSG TV produces hundreds of TV episodes of original branded hunting, sport shooting and fishing programming that airs on Outdoor Sportsman Group's broadcast entities. Visit http://outdoorsg.com for more information. #MyOutdoorTV
********
Media Contact:
Tom Caraccioli | Outdoor Sportsman Group| 212.852.6646 | tom.caraccioli@outdoorsg.com