Hunting Black Bears on "MeatEater"; Illinois and Georgia Hunting on "The Jackie Bushman Show Classics"; Testing Pistol Skills on "Top Shot" and Trap Shooting on "GunVenture"
DENVER (March 9, 2017) – Sportsman Channel viewers have the opportunity to see their favorite sportsmen and women hunt all over the states with the top hunting gear during the week of March 13–19 as Steven Rinella is on the hunt for black bears in Montana on MeatEater; Jackie is joined by Realtree's David Blanton to discuss hunting in Illinois and Georgia on The Jackie Bushman Show Classics; competitors have to show off their shooting skills while sliding down a zip line on Top Shot and Ryan Gresham tries his hand at trap shooting on GunVenture.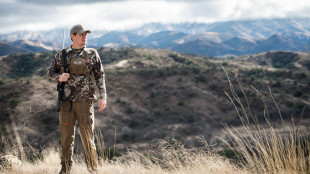 MeatEater kicks off Monday Night Hunts presented by MidwayUSA with Steven Rinella hunting spring black bears in the mountains of Southwest Montana. Next up, on The Jackie Bushman Show Classics, David Blanton of Realtree joins Jackie to talk about hunting in Illinois and Georgia. Also, another lucky sweepstakes winner hunts in Kentucky, and Jackie finally gets some justice on a buck in his home state of Alabama.
Next, on Lock and Load Thursdays presented by Remington, is Top Shot. This time, teams assign their competitors to targets of various sizes based on their perceived pistol skills. For the elimination, competitors shoot at targets while sliding down a zip line. Finally, on GunVenture, Ryan Gresham and Ruger's Mark Gurney heads to the Ox Ranch in Texas for an axis deer hunt, an attempt at trap shooting and to shoot some big, powerful guns.
Highlights for March 13 – 19: 
About Sportsman Channel: Launched in 2003, Sportsman Channel/Sportsman HD is a television and digital media company fully devoted to honoring a lifestyle that is celebrated by millions of Americans. A division of Outdoor Sportsman Group, Sportsman Channel delivers entertaining and informative programming that showcases outdoor adventure, hunting and fishing, and illustrates it through unique and authentic storytelling. Sportsman Channel embraces the attitude of "Red, Wild & Blue America" – where the American Spirit and Great Outdoors are celebrated in equal measure. Stay connected to Sportsman Channel online at thesportsmanchannel.com, Facebook, Twitter and YouTube. #AdventureToGo
********
MEDIA CONTACTS:
Allison Kmec | Outdoor Sportsman Group | 303.615.8838 | Allison.Kmec@OutdoorSG.com
Tom Caraccioli | Outdoor Sportsman Group | 212.852.6646 | Tom.Caraccioli@OutdoorSG.com