Explorations of The Caprivi Strip on Outdoor Channel's "Nick's Wild Ride";
Dreams Do Come True on Sportsman Channel's "Into High Country With Jason
Matzinger" and Inshore and Offshore Destinations on World Fishing Network's
"Florida Adventure Quest"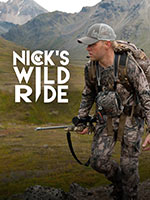 DENVER (August 31, 2017) – The week of September 4–10 begins with a celebration dedicated to the social and economic achievements of American workers, and Outdoor Channel, Sportsman Channel and World Fishing Network viewers continue to be entertained by their favorite outdoorsmen and women.
Four ducks are better than one on Outdoor Channel, with four consecutive episodes of Duck Dynasty. On Labor Day Monday, the Robertson's shenanigans include a real-life version of a math problem to help Sadie, an attempt by Willie to create the world's greatest bologna sandwich for his Duck Diner menu, a scrimmage with Lil' Will's struggling football team against the adults, and a visit to West Monroe from Sadie's Dancing With The Stars partner, Mark Ballas. Then, on Survival Science, Laura Schara and Nick Mundt experience nature's fury through amazing storm generating gear that simulates hurricanes, ice cold winds and even tornados.
Next, on Nick's Wild Ride, Nick Hoffman hunts and explores the culture, food, music, and people of the Caprivi Strip in Namibia, famous for deadly game and big adventure. Friday Night at the Movies brings the week to a close with the 1971 action film Lawman. A lawman from Bannock arrives in Sabbath to arrest all the cattlemen whose wild celebration the year before resulted in the accidental death of an old man.
Outdoor Channel Highlights for September 4–10: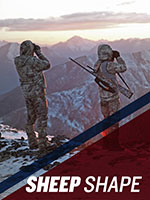 Monday Night Hunts presented by MidwayUSA kicks off the week on Sportsman Channel with Into High Country With Jason Matzinger. Jason pursues his lifelong dream of traveling to Argentina with friends to bowhunt in the thick, thorn covered landscape in pursuit of a mature Red Stag bull. Then, on Sheep Shape, Patrick Scrogin is prepping for his Wyoming Bighorn hunt, but not before he takes a tour of the Gunwerks facility and dials in his rifle for 1,000 yards. Next, on Lock & Load Thursdays, it's all about the latest releases on Guns & Gear – Sig Sauer rifles, the XD-E from Springfield Armory and many more. Finally, Inland Manufacturing, a major manufacturer of M1s during WW II, walks through how it has duplicated the Paratrooper model on Guns & Ammo presented by Brownells.
Sportsman Channel Highlights for September 4–10: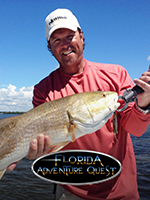 Bass Mondays catches viewers with Timmy Horton Outdoors on World Fishing Network when Timmy heads out to Pickwick Lake in Tennessee and finds some action using an all-time favorite technique for finicky bass. Then, on Major League Fishing, six anglers race to the cut weight and three advance to the Championship of the General Tire Summit Cup from La Crosse, Wisconsin. Next, spend Thursday evening with Peter Miller, professional angler and three-time World Sailfish Champion of the famed Get Lit fishing team, as he takes guest anglers on a once-in-a-lifetime fishing adventure. Finally, Florida Adventure Quest closes out the week with inshore and offshore adventures from the most incredible fishing destinations in Florida.
World Fishing Network Highlights for September 4–10:
Bass Mondays
Gone Fishin'
About Outdoor Channel: Outdoor Channel has been taking viewers across America and around the world on unparalleled adventures since 1993. Dedicated to the outdoor lifestyle and conservation, the independent cable network is a division of Outdoor Sportsman Group and provides a complete spectrum of riveting hunting, fishing, shooting and adventure entertainment. Outdoor Channel is the largest outdoor TV footprint in the country and is available in more than 50 countries internationally. Outdoor Channel can be viewed in HD and is accessible by broadband and mobile platforms. For program times and other information, visit www.outdoorchannel.com. Follow us on Twitter, Instagram, Facebook and YouTube. #WhatGetsYouOutdoors #MyOutdoorTV
About Sportsman Channel: Launched in 2003, Sportsman Channel/Sportsman HD is a television and digital media company fully devoted to honoring a lifestyle that is celebrated by millions of Americans. A division of Outdoor Sportsman Group, Sportsman Channel delivers entertaining and informative programming that showcases outdoor adventure, hunting and fishing, and illustrates it through unique and authentic storytelling. Sportsman Channel embraces the attitude of "Red, Wild & Blue America" – where the American Spirit and Great Outdoors are celebrated in equal measure. Stay connected to Sportsman Channel online at thesportsmanchannel.com, Facebook, Twitter and YouTube. #MyOutdoorTV
About World Fishing Network: World Fishing Network is North America's only television network, online and mobile platform dedicated exclusively to fishing and outdoor enthusiasts with programming that covers instruction, tips, tournaments, travel, food, boating, outdoor lifestyle and more. Available to cable, satellite and telco subscribers throughout the United States, Canada and the Caribbean, our lineup includes a selection of the best North American and international series and the most diverse species coverage of any TV channel hosted by some of the top anglers from North America and across the globe. For more information, please visit WorldFishingNetwork.com and follow us at Facebook and Twitter. #MyOutdoorTV
********
MEDIA CONTACTS:
Erin Erickson | Outdoor Sportsman Group | 303.615.8838 | Erin.Erickson@OutdoorSG.com
Tom Caraccioli | Outdoor Sportsman Group | 212.852.6646 | Tom.Caraccioli@OutdoorSG.com